Kings
Ethan DeKam
What extra-curriculars are you involved in?
"Ethan is involved in football, basketball, track, student council, concert choir, NHS, and life of an athlete at OHS. When not at OHS you can find Ethan working at his beloved Taco John's restaurant, watching the office, and hanging out with his friends. He has been involved at Trinity Lutheran Church  and has consistently been on the A-honor roll. Last winter, Ethan was a state recipient of the MSHSL Excel Award for recognition of excellence and community, education, and leadership. Ethan is an avid fan of Star Wars, Harry Potter, Jeopardy, and Spongebob Squarepants, and would like to thank each of them for the positive influence they have had on his life.
Future plans (after college)?
Ethan plans to attend St. John's university or the University of St. Thomas and plans to become a physician's assistant.
What is the first thing you would you do as a real ruling king?
"Use his power to do something cool."
Did you enjoy process from top 12 to top 5 to king?
"Yeah, it was a lot of fun and it was cool to have a lot of my friends up there with me."
---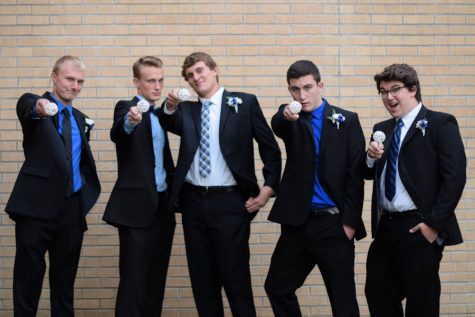 King Candidates
What is the first thing you would do as a real ruling king?
Jacob Gauthier- "I would create my own zoo and fill it with all sorts of animals."
Josh Burns- "If I were a real king I would promote Jacob Gauthier day and everyone gets off school and work."
Khor Wal- "I would allow seniors to have senior privileges in second and third hour."
Aidan Buryska- "If I were King, I would probably do a public awareness day for kickers  because they are people too."
Jaden Dowhaniuk- "I would participate in every olympic event and there would be severe punishment for anyone that would beat me."
Jay Sullivan- "If I was a king I would make everyone be apart of the rabies fun run to raise money for rabies."
Mitchell Mayer- "I would change my AP world history grade."
Cade Brede- "I would have every person would have to watch The Office."
Windham Anez- "I would buy all of the dragons or unicorns on the market at the time."
Logan Ringhoffer- "I would go hug my parents."
Darik Elstad- "I would buy a lifetime pass at Taco John's."