Summing up math league
Take a chunk of some of the smartest kids in the school, put them on one team and tell them to use their intelligence to win. The math league team is made up of eight of the smartest students here at OHS, all with a strong ability in math.
The team meets once a week from October to February, and they have five matches throughout the year, all in Rochester, MN. Senior member of the OHS math team Roshan Poduval said how matches work,"There are four events, A,B,C and D and then there is a team event." Event A is made up of Algebra concepts, event B is Geometry, event C is Trigonometry and Probability and event D is Algebra II concepts. Through the four matches they have played thus far, they sit at 4th in the Big 9 conference with 187 points.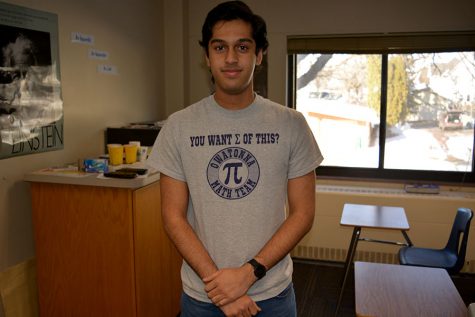 Century High School leads the way with 419 points and are ranked 5th in the state. Mr. Benson, math teacher at OHS and coach of the team said, "Fourth place [in the conference] is a little disappointing; however, for not having a full team, I think we have done well." Owatonna's point leader is senior Herbie Rand with 31 points, he is 15 overall in the conference. Jacob Pfeifer and Tommy Pfeifer are tied at 18 in the conference with 29 points a piece. The next match for the math league is Monday, Feb. 13 at Rochester Mayo High School.