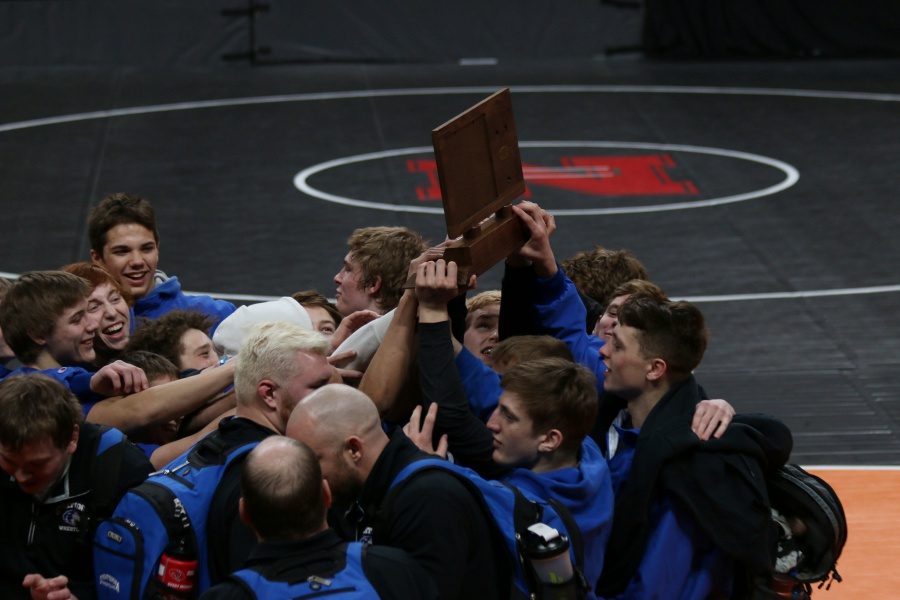 Karson Madole
The Xcel Energy center, traditionally considered as the capital in the state of hockey, was nothing of the sort on Thursday, Mar. 2. On this date, the best eight teams from classes A, AA and AAA wrestling compete in a one-day tournament with the ultimate goal of being the last team on the mat.
For the Owatonna Huskies, the day was nothing short of well fought. The Huskies began their day in a battle against Hastings High School highlighted by pins from state individual qualifying seniors Griffin Thorn and Brandon, as well as a tech-fall win from junior Peyton Robb, also an individual qualifier. These three big wins along with a heavyweight win by senior Goy Tut was too little too late as Owatonna was defeated in the opening round 36-20. Fighting their way back in the consolation game, the Huskies dominated Minnetonka in a one sided 52-12 victory to advance to the fifth/sixth place game against Willmar High School.
Finding themselves down 20-6 early, the Huskies were revived with another Robb pin at 145 lbs. to remain undefeated, followed by a 8-2 win from Junior Parker Westphal to cut the Willmar lead to 20-15. Owatonna was just getting started. Sophomore Cade King put the Huskies up 21-20 with a pin at 160 lbs. Trading points back and forth, Willmar was able to regain the lead at 170 lbs. with a victory over sophomore Nick Staska until another Moen pin put the Huskies up 27-23 and a 5-0 victory by junior Parker Holton at 195 lbs. stretched the Owatonna margin to 30-23. Things got interesting at 220 lbs. as Thorn fought hard but ended up losing 4-6 setting the stage for a show down at heavyweight with a fifth place title on the line.
As the Huskies were up 30-26, Wilmar's Brady Reigstad, an individual state qualifier himself, needed a win by major decision to even the score and force decision to criteria (pins/matches won), a tech fall (15 point win) or pin to push Willmar into the fifth place seat. OHS heavy weight Tut had to fight, and he did. Tut was able to fend off Reigstad from scoring four team points and the three period battle ended up in a 6-0 Willmar win, finalizing the score 30-29, Owatonna victory. Although he lost, Tut knew his role in one of the biggest moments of his life. Over the roar of the crowd from both teams, all Tut could think about was how to 'win' for the team, "I just had to fight for the team. I knew I had to stay off my back for us to win," said Tut.
The Owatonna Wrestling team season is over, the Huskies ended as section champions and placing fifth in the MN wrestling state tournament. Co-Head coach Adam Woitalla commented on his team's performance yesterday as well as reflecting on the season as a whole saying, "Yesterday we had a great day and it was the perfect send off for the seniors. We started off slow against Hastings  but after that you saw the team come together and really fight for each other. Which ended up in a fifth place finish. As a season as a whole, the coaching staff could not be prouder. The kids battled the whole season through the ups and downs and worked hard day in and day out. This was a special group of kids that will be surely missed. The senior class deserved every reward they got this year and each one of them will be hard to replace and we thank them for everything they have done this season."
Owatonna finished the team tournament fifth and qualified seven individual wrestlers that will continue wrestling this weekend, Mar.3 – 4 at the Xcel Energy Center.  Wrestling for the Huskies: Kaden Nelson, Landen Johnson, Peyton Robb, Cade King, Brandon Moen, Griffin Thorn & Goy Tut. Magnet will have coverage on Snapchat (username:ohsmagnet).
A "Welcome Home" event is planned on Sunday night by the Owatonna Wrestling Association. Link here for information: https://www.facebook.com/events/1683680545279172/
Individual Results: Cade King, Peyton Robb and Brandon Moen all made it to the championship match. King and Robb placed second in their weight class. Moen pinned for the championship.