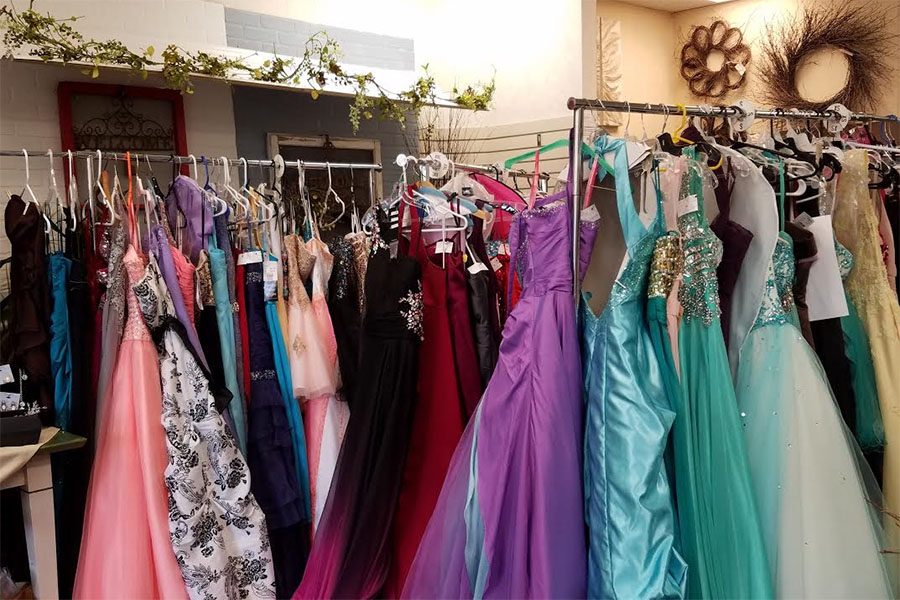 Prom season is here as juniors and seniors at OHS are starting to gather and plan for the exciting day. People are starting to buy dresses, suits and flowers as a start to planning for prom. Dresses need to be bought before anything else can be decided. Dresses are expensive and especially expensive because they are only worn for one night. Prices for the average new prom dresses can be from $100 to $500. After paying for the dress, girls need to pay for alterations as well.  Instead of keeping that expensive dress and not using it, people can sell their old prom dresses. For the first time, Cedar Floral has stepped up to help with that process.
Instead of buying their prom attire, boys can rent tuxes. Renting tuxes are much cheaper than buying a dress and all the materials that go with buying a dress add up quickly. From the dress itself to the shoes, alterations, hair, nails and accessories that cost can easily be over $500.  When boys rent tuxes, the tuxedo is fit to the their specific body shape and they do not have to pay for alterations to make it fit.
Although there are websites to sell old dresses, this year there was a local option. Cedar Floral made it easy for girls who wanted to sell their used dresses. The dress owner prices the dress and if it is sold, all of the money that is made goes directly to the seller. Cedar Floral has offered space in their shop for this trading to happen. Although they are offering space for the prom resale, Cedar Floral does not receive any money for this service.
The dresses that were on display were reasonable as they ranged from $10-$150. There was a wide selection of styles and sizes to chose from.  If you have not bought a dress for prom yet, Cedar Floral is the perfect place to start looking at them. The dress resale ended in March. Lori Rugg said, "We may extend the sale as we're hoping that some of the girls that get asked at the last minute will come in and check the dresses out."
Cedar Floral is located in downtown Owatonna and  is open at 8:30 a.m. to 5:30 p.m. Cedar Floral plans to end the reselling of prom dresses at the end of March, but that date could be extended. Cedar Floral plans to continue this prom dress resale next year.