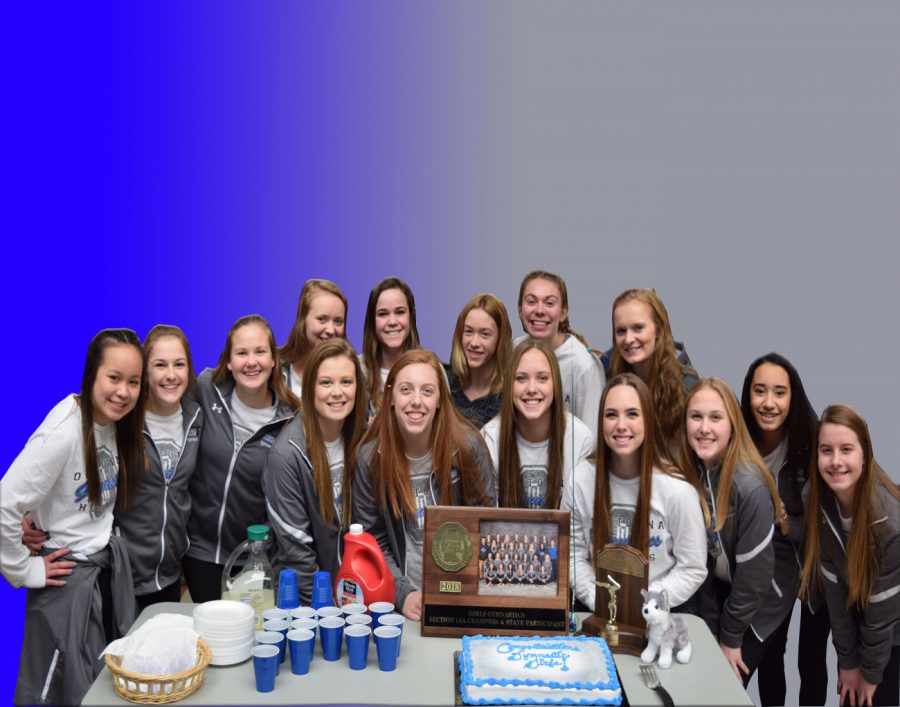 Khaleb Charles and edited by Casey Cumberland
On Friday, Feb. 16, the girls gymnastics team came, saw, and conquered. There were a lot of high expectations for them going into the Sections meet. They crushed the section meet in order to compete at the Minnesota State Tournament. Senior Becca Olson said, "It feels great. We had a better chance at winning this year than in past years." They won the Big 9 conference meet with a score of 146.6, and they were ranked number one in section 1AA according to the MSHSL website. With a high score in mind, the girls scored 149.8 in sections – putting them in first by 2.825 points ahead of Rosemount.
The girls not only won their spot at state, but they also broke the school record. The school record was set by last year's team at 149.4 points. Senior captain Erica Svenby said, "The team of girls we have this year is really an amazing group. We started out season strong and continued to improve from there. From the six year I've been on this team, I'd never imagine we'd make it to where we are now, and breaking the school record for the third year in a row just shows us how much we are improving." The growth of this team is truly impressive, and coach Tom Smith has pushed the girls to their success.
The girls have had many successes, and there is a lot that attributes to them. Coach Smith said, "I believe the word hakuna matata would describe the girls at Sections. The biggest thing is to relax the girls and remember no worries. You put pressure on any team and then they can overreact. We're just trying to keep doing what we're doing and keep them relaxed. The team atmosphere is also what brings our success, and everyone gets along with everyone." It is true that pressure can be hard on the best of teams. But, it is normal for athletes to get nervous before competition. Freshman Lindsay Bangs said, "This meet was the highlight of our season. Of course we had nerves, but we did our best to push those aside and turn it into a fun and overall enjoyable meet. The whole team had a great energy throughout the meet. We knew we had what it would take, and we showed that off to everyone."

The girls not only won sections and are off to state, but they also won as academic section champions. The team was honored with a lunch reception, and the next time these well-rounded athletes will show their talent is at their third consecutive state appearance. It takes place on Friday, Feb. 23 at 6:00 p.m. Owatonna knows their gymnasts will do great. Good luck and hakuna matata!