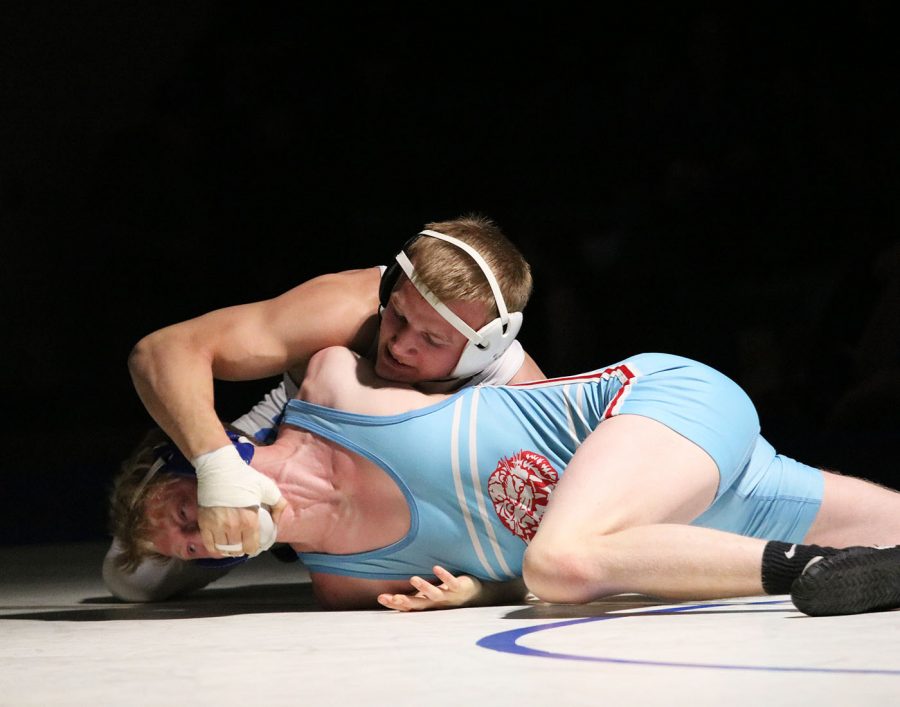 Serena Omangi
After a tough loss in the Section IAAA team wrestling tournament, there is still hope for five individual Owatonna's wrestlers who punched their ticket to the Xcel Energy Center. Seniors Peyton Robb and Parker Westphal, Juniors Cade King and Nick Staska and Freshman Blake West all hope to make a run and bring home the gold for Owatonna at the state individual tournament Friday, Mar. 2 and Saturday, Mar. 3.
As a senior, Robb is making his fifth run in the state individual tournament after a loss in the finals last year to his future SDSU roommate, Alex Lloyd. After wrestling abroad this fall,  Robb is coming back better than before with more experience than most individual wrestlers in the MSHSL tournament, and he holds the number one seed at the 160 pound weight class. Robb said, "I feel great. This week I am really focusing on refining my technique. I'm making sure everything is ready to go, and I'm making sure that I am staying mentally focused." Robb is hoping to repeat his championship appearance and improve on last year's outcome.
Senior captain Westphal is making his first appearance at the individual tournament this weekend at the 170 pound weight class. Westphal said, "It feels really good finally making it to the individual state tournament as a senior. It has been my goal all year, and I have worked hard every practice and every meet to make it to this point." Westphal will be facing the number one seed in his first match of the state tournament and hopes to be able to put his hard work to use and come out with the gold.
Junior veteran King is making his third run in the individual state tournament. He lost in the finals last year after a close match. King hopes to turn things around this year and take the crown at the 182 pound weight class, which he also holds the one seed this year. King said, "This week I will continue to condition and keep my legs in shape to make sure I can go all three periods. I'm feeling really good." King is hoping to improve on his second place finish from last year and bring home that championship title.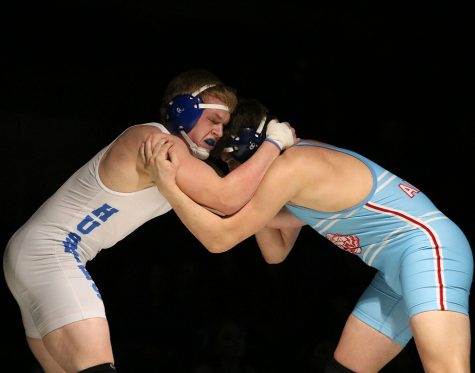 Experienced junior Staska is also making his first appearance this weekend in the individual tournament at the 195 pound weight class. Staska said, "It's exciting for sure. I mean, we made it [to the state tournament] as a team last year, but there is so much more pride being able to make it as an individual. We will being going hard all week to make sure we stay in shape and make sure I can go three periods." Staska has competed hard the last couple meets of the team season and hopes to make a championship appearance in his first individual state tournament.
Hopeful freshman West is making his first appearance at the individual tournament and will be competing at the 106 pound weight class with high hopes of bringing home his first championship with the number four seed. West said, "I'll be going hard all week to get my body ready. Thankfully I don't need to cut any weight so I can eat whatever I want and just stay mentally focused." West  hopes to bring home the gold for Owatonna.
Good luck to all of Owatonna's individual wrestlers heading off to state this weekend. The first round will kick off on Friday, March 2 at 9:00 a.m. at the Xcel Energy Center, and the semi finals and finals will conclude on Saturday, March 3 also at the Xcel Energy Center in St. Paul.
Update: Peyton Robb and Cade King are both State Champions in their weight classes.