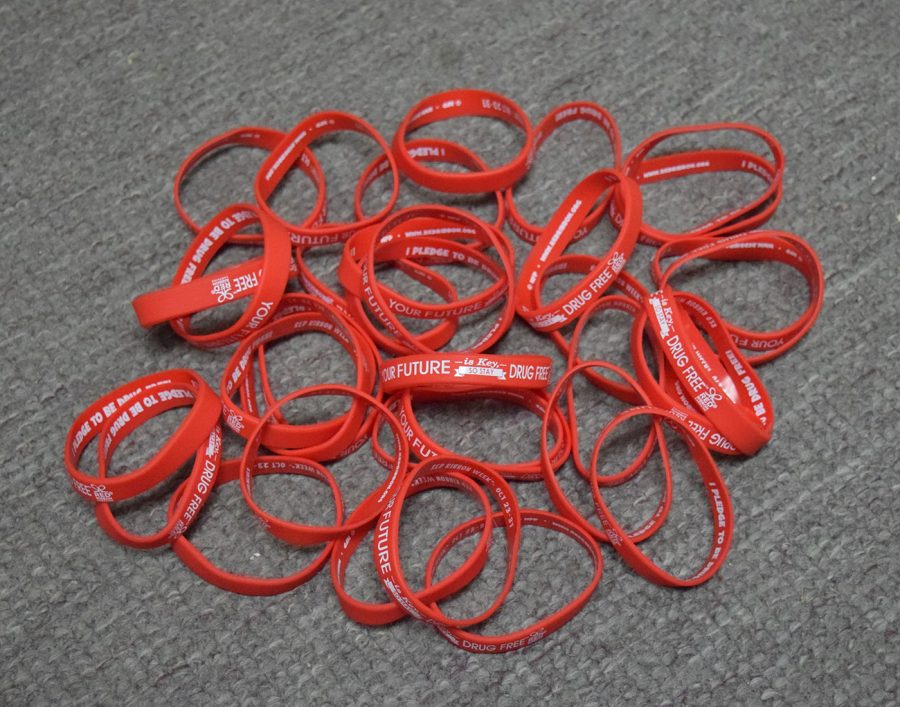 Charity Jackson
Red Ribbon week is a annual drug prevention celebration presented in communities nationally. This year, it will take place during the week of Oct. 29 through Nov. 2. The Drug Enforcement Administration estimates that over 80 million people in the nation will celebrate this event.
At OHS, the hallways will be adorned with red, and students will be offered to take a pledge for prevention during all lunches in the upper commons. This pledge entails students to promise to be drug free for one year at a time. At least two-thirds of the OHS student body signs the pledge each year, and each student who signs will be offered a free, red wristband. Discount fliers will be available for students from local businesses which grants them free or discounted items if they wear the bands throughout red ribbon week. Some of the key organizations that take part in Red Ribbon Week are OHS SHOC, local Noon Kiwanis and the Steele County Safe and Drug Free Coalition.
Red Ribbon Week is the nation's oldest and largest drug prevention campaign. It helps people take a stand for today's youth through commitment to drug prevention and education. Red Ribbon started in 1985 after DEA (Drug Enforcement Administration) Agent Enrique "Kiki" Camarena worked on a major undercover drug cartel case in Mexico and died as a result. Red Ribbon Week has became nationally recognized and celebrated with the intentions to preserve Camarena's memory and further the cause he gave his life for.  
Red Ribbon Week is a crucial platform in the community. Junior SHOC officer Anna Vetch said, "I feel like kids look up to high schoolers, so when they see them promoting that drugs are bad, it clicks in their mind that drugs aren't something they should be doing." The Steele County area has a much higher tobacco use than the state average. According to the Steele County Safe and Drug Free Coalition in 2016, within the past 30 days, cigarette smoking occurred in 4.7 percent of eighth graders, 3.6 percent of ninth graders and 13.5 percent of eleventh graders. Compared to the MN State Average of 2.8 percent of eighth graders, 4.3 percent of ninth graders and 8.4 percent of eleventh graders. Steele County is working to keep their students drug free. In middle school, kids are very susceptible to being tempted and pressured by their peers to make poor decisions. Steele County Safe and Drug Free Coalition Project Coordinator Andi Gaffke said, "Middle school is when they're being presented with good and bad choices. Those that are making good choices will get positive reinforcement and those that are on the fringe will think before they go down the wrong path." The purpose of Red Ribbon week is to raise awareness and make sure people are paying attention to issues related to substance use among youth.
On Oct. 26, the Friday prior to Red Ribbon Week, SHOC decorates OHS with red decorations and posters made by Owatonna's fourth graders. This year the theme for the poster contest is, "Life is a Journey. Travel Drug Free." On Monday, Oct. 29 at 5 p.m. the week starts with a big kickoff celebration in Central Park. At the kickoff, there will be SHOC members, school administrators, local law enforcement, Safe and Drug Free Coalition members, United Way representatives and Mayor Tom Kuntz. SHOC will engage kids in fun games and activities, face painting and pledge booths. Kiwanis provides a free meal and root beer for all attending. In addition, the fourth grade poster contest winners will be recognized on stage with their posters, and the posters will be hung in supporting downtown businesses. Tuesday, Oct. 30, SHOC will host a root beer float social after school for any and all staff and students who wish to attend.