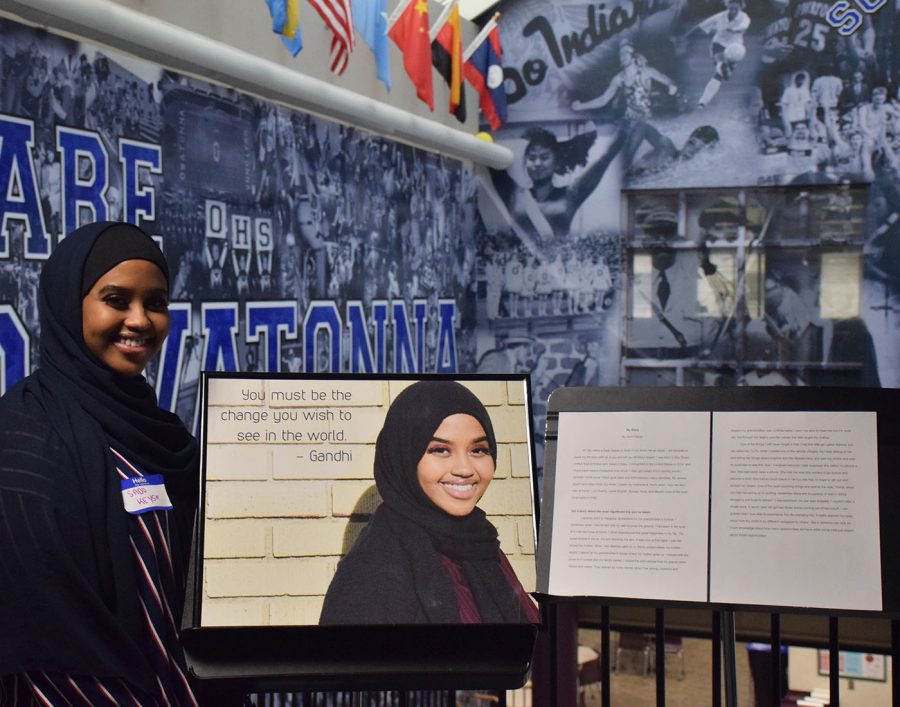 Emily Maine
Green Card Voices made its debut at OHS this week. The interactive exhibit is on display in the commons, and students can walk around and read the stories of immigrants that came to Minnesota. On Monday, April 22, OHS hosted a community open house of the exhibit. OHS students told their stories through a video produced by the EL Coordinator for the community. Several students who are immigrants or children of immigrants took part in making a video talking about their experience for their peers to watch and help them educate the community. The goal of Green Card Voices is to help create a more welcoming environment around the thought of immigrants.
Some students think Green Card Voices came to OHS as a response to the events that took place in February, but this is something that has been in the works for about a year. Principal Mr. Mark Randall said, "A couple elementary teachers from Wilson got a grant to bring Green Card Voices to all the of schools in Owatonna. When you do big things like this, you have to plan well ahead in advance, and that's what they did." Regardless of the timing, the students and administration believe Green Card Voices is something OHS needed to see. Mr. Randall said, "When we went back and redid our mission, vision and commitments for our school district, one of the commitments is equity, so we're trying to educate people on the topic of equity."
OHS students are more than happy to participate in this experience. Sophomore Eman Gabri said, "If I could describe Green Card Voices in one word, it would be, 'courageous'. I really hope staff and students come to see our point of view by observing and learning." The people at Green Card Voices hope to increase positivity for not only the immigrants in the community but also others that feel left out of society. Sophomore Max Liverseed said, "I can't put myself in the shoes of those who have been discriminated against for their race. The most I can do is say what's right in my heart." In Liverseed's video, he speaks openly about him being transgender and overcoming his hardships. He said, "I felt so out of place. I didn't feel like I belonged, but things have gotten better."
Students need a safe and welcoming learning environment to be successful. The students in the videos are trying to help create that environment for themselves and others. Mainly immigrants and children of immigrants are featured in the videos made at OHS. They can be seen by scanning a QR code on their picture displayed in the commons. To get this experience at home, visit https://www.greencardvoices.com/.