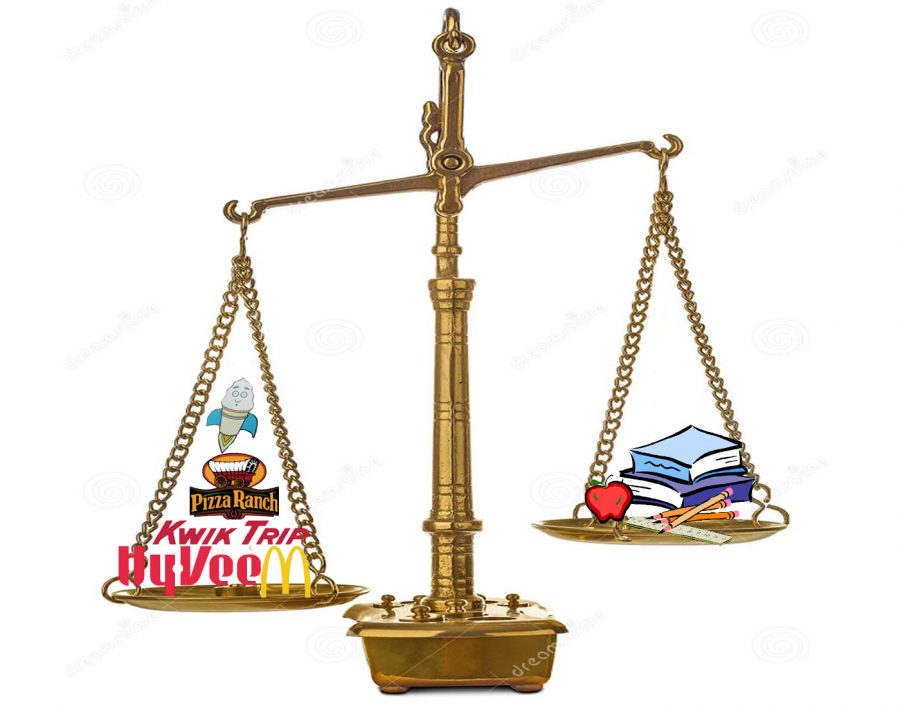 Parker Erickson
Ever wonder how students can work and still keep up with school? Many students who have jobs have a hard time paying attention in class, deal with trying to find someone to work for them or struggle to get off work for a school activity.
Youth Employment is a website talking about students ages 16-24 years-old who are in or out of school. Youth Employment said, "In October 2018, 22 percent of females enrolled in high school were employed, compared to 19 percent of males,"  Here at OHS, there are many students who balance school and work life. Some of these students are Riley Voracek, Maclean Pilcher, David Izquierdo and Dallas Carlson.
Freshman Maclean Pilcher works at West Hills in Owatonna. He has been working there for about eight months and enjoys working with little kids who want to learn how to play tennis. Pilcher works Tuesdays and Thursdays teaching ages five to 12-year-olds. Pilcher said, "Time management is one of the big things, using every minute you possibly have. When I am not working or dealing with school-related activities then I am studying or doing homework, even on the weekends." Pilcher loves using the study app Quizlet when he has a test or a quiz the next day and has to work.
 Sophomore David Izquierdo works in the kitchen at Hy-Vee. He works in the back, washing dishes, cooking food and helping customers. He typically works only one day a week. Izquierdo does very well in school and has very little stress when it comes to school work, even if there is a test the next day. He finds some way to study in school, at lunch or during class if there is some downtime. Izquierdo said, "When I am in school, I find ways to study. Even if the test is that day, I don't stress about it because I know I will be okay," After work he may read a book or look over his notes for a few minutes. 
Junior Riley Voracek also works at Hy-Vee. He has been working there for about eight months twice a week on average. He loves working at Hy-vee because he gets to interact with people and make money while doing so. On a work night for Voracek, he worries a lot over assignments due the next day. Schoolwork and school-related sports take priority over work. Voracek said, "If you are looking for a job, find a job that has flexible hours and can work with school." Despite any conflicts Voracek has with work and school, he keeps his grades up and puts school first.
Senior Dallas Carlson works at one of the Kwik Trips in town. He works in the back, cooking food, stocking shelves and occasionally working as a cashier. He typically works weekends, but when he does work weekdays, he prefers short shifts. Carlson is able to keep up with his schoolwork via online schooling. His teachers tell him when there is a test or an assignment due. Carlson said, "I use PSEO online, this is where I can do school online and get homework done or a test done earlier before the week is over." Carlson takes only choir and band at the high school; this makes balancing school and work much easier for him.
Many students that have jobs have a hard time with school. With these students here, they work hard and try to keep their grades up and try to make some money too.