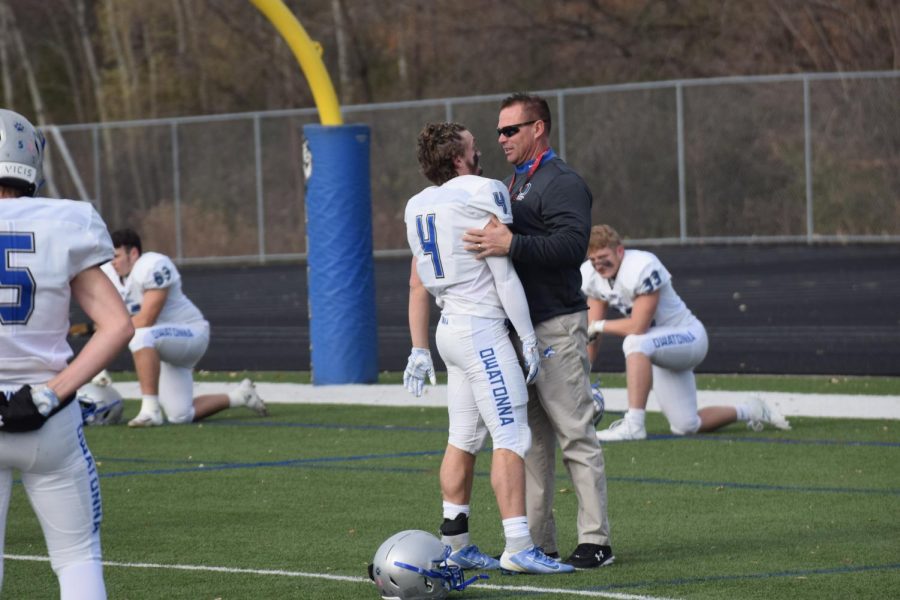 Oliver Hansen
Senior Ethan Walter has always been smaller than his opponents; however, hard work and determination to succeed has made him one of the best all-around athletes in the senior class. Walter is involved in three extracurricular events at OHS: football, baseball and the Owatonna Clay Target team. Walter was voted Big 9 All-Conference by his coaches in baseball and football and has been a major contributor for both teams. Walter was also a two-time state champion for the football team, playing a major role at wide receiver for the Huskies.
From an early age, it was obvious to his coaches that Walter had what it takes to become a phenomenal high school athlete. Head baseball coach Tate Cummins said, "I love the competitiveness he brings and the mindset that he continually improves." Being shorter never stopped Walter from becoming one of the fastest and strongest athletes in his class. Junior teammate Brayden Truelson said, "He's got great speed and agility, and he is always trying to get better at every little thing he does." Walter is a great leader on and off the field and is always willing to put in extra work to help the younger kids become better athletes. 
Walter is now beginning his third season as a varsity starter for the baseball team. From the beginning of his baseball career, he has always been a tremendous bat and fielder for the Huskies. Walter said, "My favorite part about baseball is hanging out with my friends after school while doing a sport that I love to play." On the football field, Walter was able to use his agility and speed to become a fantastic route runner and receiver for the Huskies. Head football coach Jeff Williams said, "Walt will go down as one of the finest receivers we have ever had at OHS. His quickness made him so tough to cover 1 on 1, and he worked harder and wanted it more than any of his opponents."
One of the major influences on Walter's athletic career was the wide receiver coach, Nate Skala. Walter said, "Coach Skala always pushed me to do my best, and he made me a better receiver and person." Being a three-time letter winner for the football team, Walter's skills will be greatly missed on the field.
Outside of baseball and football Walter can be seen at the gun range for the Owatonna Clay Target team. Walter has always been a passionate hunter and enjoys being on the gun range with his friends shooting clays. Walter said, "Trapshooting allows me to shoot every week against my friends and see who gets bragging rights each week."
In the spring, Walter can be found playing shortstop and pitching for the Huskies or at the gun range with the clay target team. Walter also plans on attending the University of Minnesota Duluth next fall majoring in electrical engineering.