2020 NFL Draft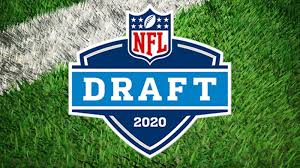 The 2020 NFL draft had to take a different approach this year with the circumstances that are affecting our world right now. They took a virtual aspect to it this year since it could not happen in person this year. Commissioner Roger Goodell announced picks from his basement and all players had draft parties with only close family members are their houses. All players had Zoom calls set up in their living rooms so people on tv could see their reactions to a call that changed their lives forever.
The first round of the draft is the most exciting part because these players are expected to come in and make an immediate impact on their new teams. The number one overall pick is the most hyped-up pick in the draft for good reason. They are supposed to be the best player in the draft and change the franchise for the good. This year, Joe Burrow from Louisiana State University was the number one pick in the draft going to the Cincinnati Bengals, which was expected as it has been talked about since the end of the college football season. ESPN and other sports companies have been making mock drafts for months leading up to these couple of days to give an idea of going where, but sometimes teams go their own way and they take a surprise pick that no one expects which creates lots of excitement.
Some surprises of the draft were that there were three players that were taken that didn't play Division I football. The reason that is a surprise is that everyone just assumes that to get drafted one must play at the top level of college football. There were two players taken from Division II football and one from Division III. The player from Division III is from St. John's in Minnesota was drafted in the fourth round and is one of three players to ever be drafted from Division III.
The Minnesota Vikings had a solid draft according to CBS Sports . In the first round, they took Justin Jefferson and Jeff Gladney who were very needed picks for the Vikings. Justin Jefferson from Louisiana State University is coming in to replace Stefon Diggs after he was traded this offseason to the Buffalo Bills. With their second pick of the first round, they took Jeff Gladney from Texas Christian University to come in and play defensive back and replace Xavier Rhoades, Trae Waynes and Mackenzie Alexander who all left in free agency. These picks look really good for the Vikings and hopefully, they come in and help the team be successful in the future.
About the Writer
Sam Henson, Writer
Sam Henson is a senior at OHS. It's Henson's first year in Magnet and he joined because of the family feel and to write for OHS. Henson is involved within...