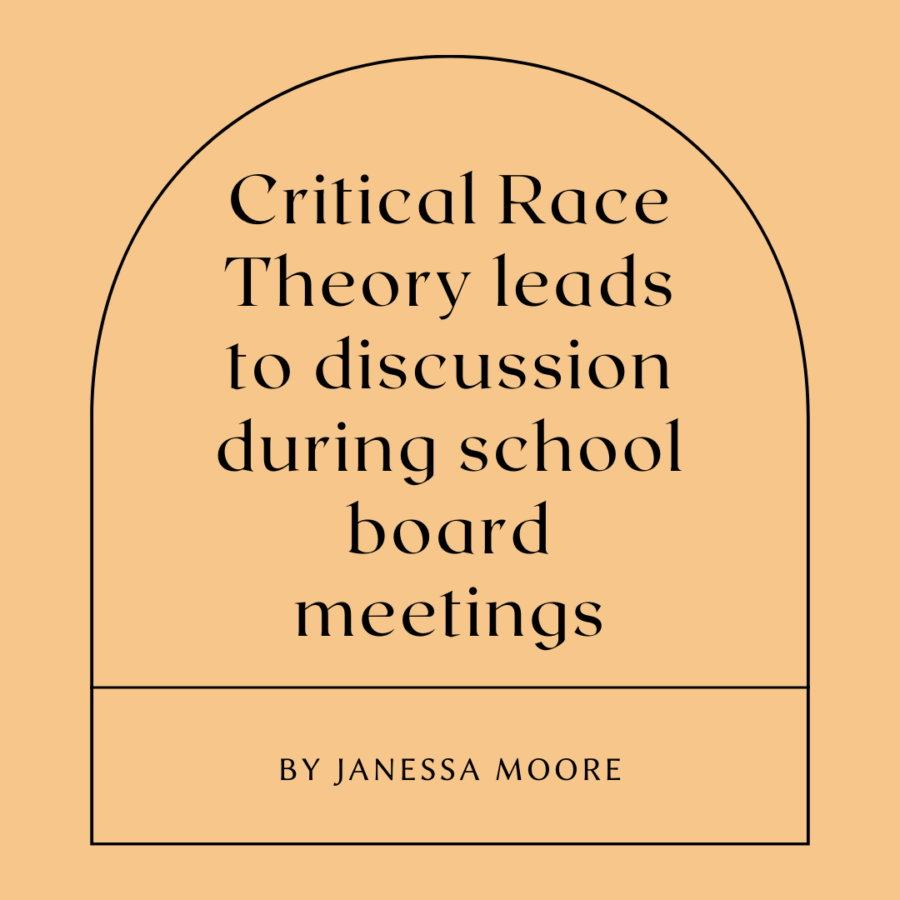 Designed by: Janessa Moore
The past four months of school board meetings, there have been numerous speakers during public forums. Public forum is a time when the public can express their views and ideas to the school board for the first 30 minutes of the meeting. To talk in a public forum, one needs to fill out a request form to speak and then they would be able to speak at the next meeting. Lately, many of the public comments have been made about Critical Race Theory (CRT). There are two opposing sides to CRT that are both mentioned at these meetings.
CRT is an academic theory that explains how racism is embedded in the legal system and  different policies like red lining and hospital discriminations. This idea was first introduced to law students to view how the legal system may work. Over the course of 40 years, this has spread to colleges and now high schools. CRT is an elective college class that was offered at OHS last year for one class spring semester of the 2020-2021 school year. 
There are two common opinions being expressed. One stance is predominantly expressed by members of a group wearing  matching shirts that say "We the People" who are believed to be connected to the Minnesota Black Robe Regiment .  This group focuses on the value of not teaching CRT in the schools including Owatonna Public School District. 
Other members of the community who come as individuals also speak. The topic usually starts with support or critique of CRT and then has spiraled into different subjects like mask policies and equity issues. The organized group with matching shirts have been populating the meetings  for a couple of months to fill a majority of seats. 
Even though the elective class CRT is not being held at OHS this year due to staffing issues from the collegiate partner, it remains a talking point. The new course that is being offered instead of CRT is Exploring the Impact of Race in Education. This class will be offered to juniors and seniors with no prerequisites but intro to education is strongly recommended. This course objective is to have healthy conversations about race in and out of the education system. Students will read and discuss current events and study history correlations. 
Throughout the meetings, there are other members of the community showing their support for teaching CRT and learning about diverse backgrounds. Many students and parents have shared their ideas on why it is important to them to keep CRT in classes. At the August 30 meeting, community member Zach Radtke said, "Teaching CRT will lead our country to socialism and Marxism."  
Some students that have taken the class also spoke in support of CRT. Ruvieanna Skaalerud, a junior at OHS, is one student who took CRT last year and has attended multiple meetings. Skaalerud said, "I was so eager to take a class called CRT because I strongly believe that it is important for students to learn the impacts that racism has on our society." The President of the Owatonna School Board, Mark Sebring said, "Public forum has always been an important component of school board meetings. It is important that the community have an opportunity to share their thoughts and the board values hearing the input."
Critical Race Theory is, and will continue to be, a topic of discussion at upcoming school board meetings as long as groups keep coming. The public is welcome to attend and speak in a respectful manner. OHS will not be running CRT this year because the professor who taught the class is no longer teaching. Instead of CRT this year, the school is looking to find a similar college level course to offer that also relates to topics like race and equity. The next meeting is Tuesday, Sept. 28 at 5:30 p.m. in its new location at the OHS Small Group Forum.