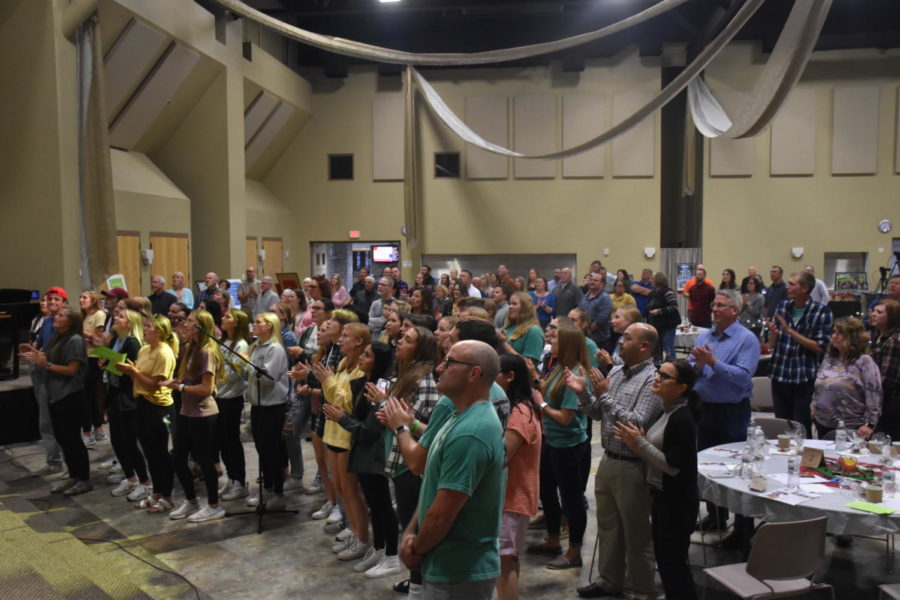 Syd Hall
Younglife is a Christian outreach organization that was established in 1939 by Jim Rayburn. Young Life's mission is devoted to introducing adolescents to Jesus Christ and helping them grow in their faith. YoungLife is an international organization in over 100 countries. United States' headquarters are in Colorado Springs, Colorado; but each community where Young Life is, it is funded individually. 
Younglife in Owatonna is made up of WyldLife, RealLife, Walk with Me and Campaigners. It is something that kids from all over the community with different backgrounds look forward to. Whether that is fall Castaway camp in Detroit Lakes, summer Clearwater Cove camp on Table Rock Lake in Missouri, backpacking in the mountains for a week in Buena Vista, Colorado or club on Monday nights at 7:45 p.m. Younglife offers many fun and engaging opportunities and activities for high school students to grow in their faith and learn about Christ. 
In order to be able to do all these fun activities and trips, the organization needs to be funded. Funding comes from the community by individuals, families and businesses. Every year in October the Fall Celebration Banquet is put on at Trinity Lutheran Church in Owatonna. The banquet provides a platform to share what Younglife is doing and ask people to partner financially in the ministry. Lindsay Thompson, Steele County Young Life Chapter Leader, said, "The banquet allows us to show the community the kids being impacted through Younglife." 
Kids have the opportunity to help and serve, participate in videos, sing and a few are chosen to share their personal stories. Thompson said, "I absolutely love looking out and seeing our donors emotionally impacted by the kids' story and feel that they have a part to play in the ministry." Having a few kids share their personal stories and be so brave and vulnerable is inspiring and amazing to see. Junior Sarah Snitker said, "My favorite part about the banquet is parents seeing the impact they have on kids by donating money for kids to go to camp and changing their lives for the better." Younglife is about the kids, kids being able to speak and portray what they love so much about the club is inspiring. 
This fall, Owatonna Younglife has switched over to Steele County Younglife. The goal in making this switch is to involve surrounding communities such as Medford, Waseca, NRHEG and Blooming Prairie. Club is often said to be "a party with a purpose" and to be a place where kids can have fun. It is also a place where leaders can have the opportunity to get to know kids and continue to build relationships with them. 
Club takes place Monday nights at 7:45 p.m. at the Younglife office in Owatonna. Club consists of games, mixers, skits and club talks. Club is usually about an hour long and many kids look forward to it at the beginning of their week. Seniors are given the opportunity to lead their peers as senior presidents. The duty of a president is to be a student representative and interact over social media and in person with the kids who come to the club. Senior president, Moriah Noeldner said, "I am a president because I always looked up to the presidents before, I wanted to be a role model for younger high school students that come to club." Presidents are the captains for Younglife and allow seniors to grow deeper in their faith and lead their peers. 
Young Life has been proven to positively impact the students and leaders who are a part of it. Snitker said, "Younglife has impacted my life by bringing me closer to God and my best friends all at once. It has strengthened my relationship with the Lord and led me to love myself and others in a whole new light." 
Clubs and camps allow students to grow in their relationship with Christ and their relationship with their classmates and friends. Noeldner said, "Younglife has allowed me to create strong relationships with people in the Young Life community. It has also allowed me to travel to different places such as Colorado to go backpacking in the mountains. It is something I probably wouldn't have done on my own." Younglife is continuing to gain support from the community and students to keep up the tradition of the club. 
For more information about Younglife, visit https://owatonna.younglife.org/