Senior Trevor Hiatt accomplishes his overall goal of running at state
The Section 1AA Cross Country Meet was held on October 27. Senior captain Trevor Hiatt ran an amazing time of 16.05.29 minutes, and placed second individually, which qualified him to run at Boys State Cross Country Meet. Hiatt has been on the Owatonna Boys Cross Country team since his seventh grade year. Along with cross country, Hiatt is involved in spring and winter track and field, NHS and DECA.
At the beginning of the season Hiatt ran a 17:33 race, but he saw his times improve greatly throughout the 2022 season. His stats for the season included times of 17:33, 16:34, 16:09, and his personal record of 16:05. Hiatt said, "My biggest accomplishment would be qualifying for state. It's been a big goal of mine, a big dream of mine qualifying for state, and now it's finally true." Hiatt also has high hopes for the State Cross Country Meet. His goal is to place within the Top 25 participants, which would qualify him for all-state honors. This would also make him the nineteenth Owatonna Cross Country runner to be granted membership to the high school cross country honor roll. 
Hiatt's focus on this goal started last spring during his junior track season. He realized he could be a strong runner which motivated him to work hard during this past summer to achieve his goals. Hiatt said, "I believe all the hard work I've done over the years has definitely been worth it, considering I'm getting looked at to run at college. I would say all the hard work and dedication I've put in throughout the years has definitely paid off." Hiatt plans to continue running both cross country and track and field at college, hopefully earning a scholarship to a  Division I school. 
A big reason Hiatt has seen major success this season is because of his fellow teammates and coaches. Hiatt said, "I pushed my teammates to get better each and every year, and they helped me get better as well. Having two other guys to push me the way Jack and David have been has been great, they've been great practice partners for sure." Hiatt's younger brother Trey Hiatt is also involved in cross country running varsity as a freshman. 
Hiatt is one of two Boys Cross Country captains this year. Hiatt said, "I think it's a pretty big honor, to think most of these guys voted for me to lead this team throughout the year is a really big honor."
"
It's awesome to see all of Trevor's hard work and his dedication has paid off to get him not only to state but hopefully at a collegiate level as well.
— Luke Holt
Hiatt and senior captain David Smith both led the Boys Cross Country this fall season. Smith said, "I think we did a good job leading this team. We've both been here for six years. We know how to run the team, to learn from the experience we lived through when we were younger."  Smith has run along with Hiatt since seventh grade cross country. They have pushed and inspired each other to do better and run faster. Smith said "To get to come to the top with the same guy that I started out with is fun." Both captains are the two top runners this season and have reduced their times immensely throughout.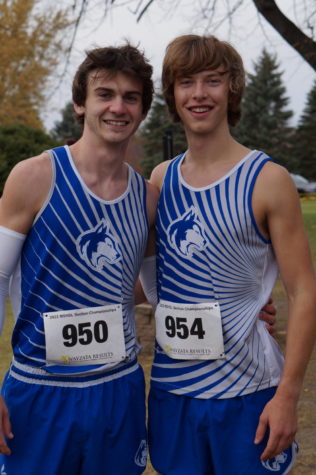 Boys Cross Country Coaches Dave Chatelaine, Luke Holt and Jacob Jenson all believe Hiatt ran an overall fantastic section race. Chatelaine said, "We're definitely proud of how Trevor ran, that's one of our team's fastest times over the years. Probably in our Top 3 best times any of our team members have run on the Brooktree course." The three believe he came a long way from last year, trained hard and earned his spot as a state participant. 
After losing 16 seniors, this year's Boys Cross Country team had a lot of work to do to rebuild that loss. Jenson said, "Trevor is full of team spirit, brings the energy and team spirit we need for our cross country team. He truly has set the tone for years to come." The coaches hope Hiatt's success can motivate other students to join the team. Holt has been a big part of Trevor's success, running with him during the summer and even coaching him off season. Holt said, "It's awesome to see all of Trevor's hard work and his dedication has paid off to get him not only to state but hopefully at a collegiate level as well."
Hiatt will run his final high school meet at state this Saturday, Nov. 5 at 10:30 a.m. at the St. Olaf College course.