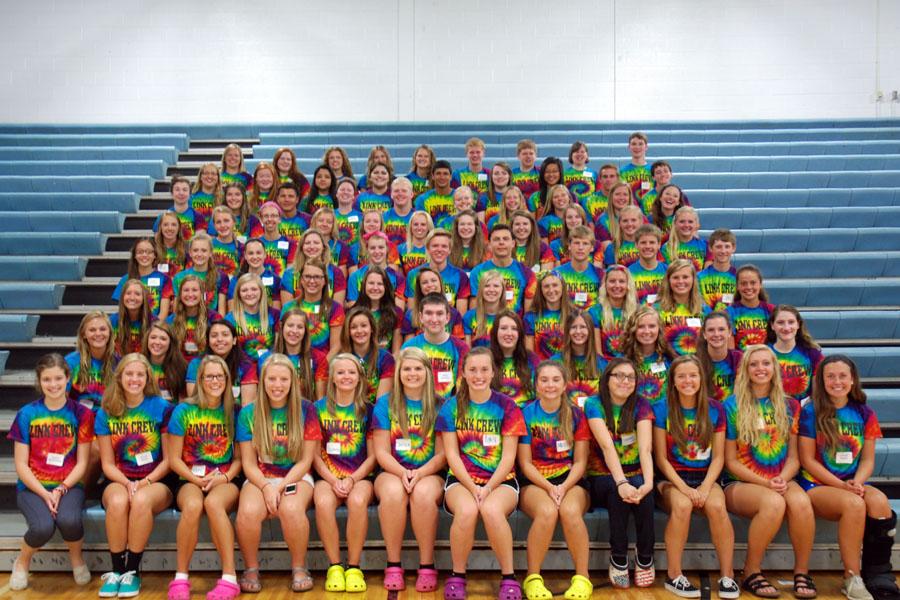 At 7 a.m. on August 27th, seventy-six Link Crew leaders entered the high school ready for a day of fun and freshmen. After two hot days of training in the middle of August, these juniors and seniors were ready to meet the freshmen they will be spending plenty of time with for the rest of this year. After an exciting entrance through "The Gauntlet," the freshmen met their appointed leaders and were introduced to the kids in their advisement. They also went on a tour of the school and heard a list of things Every Freshman Should Know, all while playing games and doing activities to get to know each other. Through all the fun and games, what these leaders did here today is important to the futures of the freshmen.
"Link Crew is a program directed toward freshmen to help them become more comfortable and learn more about the high school before it starts," says coordinator, Lauren Gendron. She would know. Gendron was in the first freshman class to go through a Link Crew Orientation at the Owatonna High School. She spent her junior and senior year as a leader to freshmen. When she came back to teach in Owatonna in 2010, then advisor, Emily Leckner asked if she would like to take it over, and she did so the following year. Being a teacher, she sees first hand the effects of the orientation. "They are nervous and excited, but still trying to find their way around. Orientation definitely gives them more confidence, especially after the campus tour. They get a sense of, 'I have been here before.' It shows in the classroom."
Every year, 9th grade students enter a new school, with new people and start the process of preparing for adult life. Unfortunately, many students come unprepared. According to the National High School Center, more students fail 9th grade than any other grade. Studies show that students who have had a positive experience during their first year of high school have an increased chance of success in the future. In 1991, the Boomerang Project founded Link Crew to do just that: provide students with a helpful and positive freshman year. Their goal was to help create schools that not only teach students but reach them as well. Today, Link Crew reaches 75,000 freshmen each year. Link Leaders provide these 9th graders with a warm welcome and meet with them once a month throughout their first year to make sure they are settling into their new surroundings comfortably.
Freshman Hannah Gebur agrees, "It's fun and it's really helpful." Coming from St. Mary's, Gebur was nervous, but also excited, "The high school is so big and different from where I was last year." Ari Forcelle, who attended the Owatonna Junior High, remembered how she and her mom walked around OJHS before the start of her seventh grade year there and located all of her classrooms. "There weren't people showing you around, you had to find your own way," she recalled. She likes the idea of knowing where to go and what to do when she starts her first year at the high school. "My leaders were cool and nice and helpful," said another incoming freshman, Noah Budach. He is excited to get his year underway and see his friends. "I feel better about going to school here after Orientation."
The freshmen are not the only ones who benefit. Though many leaders join Link Crew to beef up their college application, they all remember what it was like when they were freshmen. "I like letting the freshmen know that I was in their shoes," said senior Maria Chicos. When asked what the best part is about being a Link Leader, she smiled and responded, "It's just being able to interact with these freshmen and get them prepared for the next chapter in their educational career."