During the fall there are a lot of different activities to do with friends and family. Such as carving pumpkins, going to haunted houses, pumpkin patches and apple orchards. At OHS a survey went out with choices of different fall activities to do. The most popular activities were going to haunted houses, pumpkin patches, and apple orchards. 
Haunted houses are a popular activity because of how fun it is going with friends. Freshman Carlin Maas said, "Because you get to see costumes of other people in the haunted house and the workers with their acting, it feels like you're in a movie." The acting of the actors is impressive because they have to stay in character the whole time even when they scare people.
The effort people put into decorating and scaring people for Halloween shows how much people love the holiday. Orchestra teacher Sandra Justice said, "It is fun to see how much effort people put in for others to enjoy. The jump scares are fun throughout the activities as well." Sophomore Haley McNett said, "It is really funny to see your friends/family as they are getting scared by the workers." 
"It is really funny to see your friends/family as they are getting scared by the workers." 
— Sophomore Haley McNett
A near-by haunted house from Owatonna, in Hollandale, is Terror Island. Terror Island is a haunted forest that is made to scare. They use real people and realist animatronics to scare people. The haunted house is open every Friday and Saturday in October; their tickets(cash only) cost $15.00 each for ages 15 and up, and $7.00  each for ages 14 and under. Concessions are available. 
Orchards and pumpkin patches to explore
At apple orchards and pumpkin patches are also good options for activities to do.
At apple orchards there are a ton of activities to do besides picking your own apples. Sophomore Addilyn Stowe said, "There are usually many activities you can do there and you can even pick your own apples." Going to apple orchards with friends or family makes good memories to look back on.
An experience that people can also get by going to an apple orchard is picking their own apples. Sophomore Paige Thompson said, "I like going to the apple orchard because it's fun to pick the apples yourself. The apples always taste so good because they are so fresh."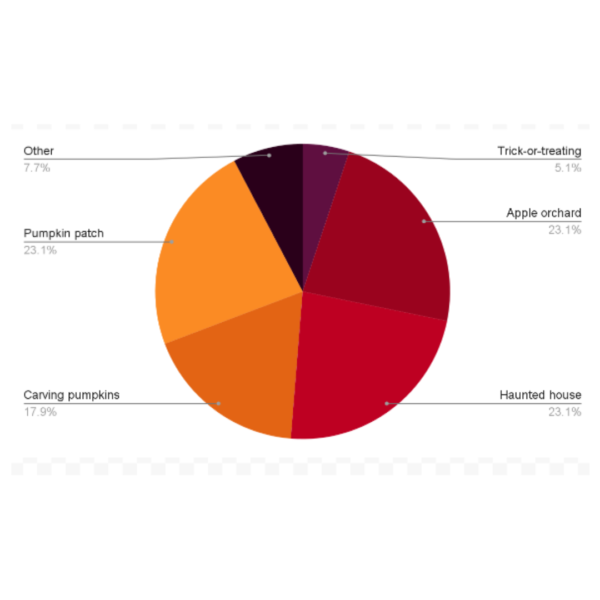 In Northfield, there is a place called Fireside Orchard and Gardens where they grow 27 different Minnesota favorite varieties of apples. They also have a store where you can get cider, caramel, pies, and a lot more. A five pound bag of apples is about $17. At Fireside Orchard and Gardens there is a pond with koi fish and other wildlife. They also grow pumpkins that you can purchase to carve as another fun fall activity. 
Going to pumpkin patches like apple orchards is a fun choice because there are a lot of activities for every age. Junior Sabastian Sweningson said, "This is my favorite because we get a chance to pick out a pumpkin to take home, and there are a ton of fun events that you can participate in." At pumpkin patches there is a lot of space to do many activities. 
In Litchfield, Minnesota there is a pumpkin patch called Nelson Farm and Pumpkin Festival. The entrance fee is $12, for further activities prices may vary. At Nelson Farm there is a Pumpkin Festival. There is also a corn maze, mini golf, combine rides, frisbee golf, lawn mower barrel rides and face painting.
A lot of families and friends have a tradition of carving pumpkins together. Senior Alayna Wannarka said, "It's been a tradition in my family for as long as I can remember." It is a fun activity to do with anyone and you make good memories doing it." Anyone can even buy a pumpkin at Walmart. Pumpkins are $3-5.
In the autumn time there are a ton of fun activities to do for everyone. These activities are something to look forward to yearly. Also, these activities can turn into a fun tradition to do with your friends and family.