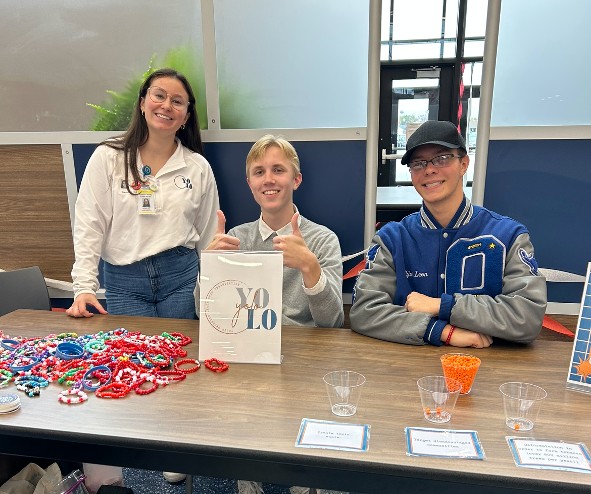 Red Ribbon Week is a week of substance awareness to help the community choose other alternatives to be healthy. The week of October 23-27, OHS SHOC will host events for OHS for people to come together and celebrate and encourage to live drug free throughout the week. To start the week, the Red Ribbon Week kick off event was held on Tuesday, Oct. 24 at 5:00 p.m. at OHS. The event brought together Owatonna students of all ages to learn about living a drug free lifestyle. 
Red Ribbon Week, a nationwide celebration of living drug-free. It is an opportunity for communities to reinforce the drug free message to developing minds about the possibility of different destructive effects of drug abuse. SHOC adviser Nancy Williams said, "A week of educating, bringing awareness to helping kids have other alternatives and being healthy".  
 Red Ribbon Week is all about helping students make positive choices here at OHS.
OHS SHOC, an organization since the 1980's based here in Owatonna. SHOC stands for "Students Helping Others Choose". Students in the club make a pledge to be drug and alcohol free. The purpose of the club is to educate the students and community about the effects of drugs and alcohol. OHS SHOC member Raqiya Yussuf said, "I joined SHOC because I believe drugs are harmful to your body and I wanted to be a role model for younger kids."  SHOC members engaged all throughout the whole community wanting to help others pledge to be drug free, while supporting all Owatonna students of all ages.
With decorations in the Owatonna Middle School, all Owatonna Elementary schools, and Owatonna's ALC. As OHS SHOC adviser Mrs. Williams said, "Fourth graders throughout the whole city, including St. Mary's. All competed in a contest talking about Red Ribbon Week and being drug free."OHS SHOC officers picked the top two posters from every single classroom. Winners will be introduced and recognized at the kickoff and rewarded with a special prize. Bringing awareness to all ages of Owatonna students. 
The school looks forward to educating more community members on what it means to be drug and alcohol free. OHS will celebrate Red Ribbon Week at lunch. Including a huge banner with OHS SHOC members encouraging their peers to pledge to be drug free. Students that sign to pledge will receive a red bracelet. With the bracelet students will receive access to coupons and discounts that businesses and restaurants in the area will provide throughout Red Ribbon Week.