The American economy is greatly based upon the consumption of products and goods. To an American consumer, the feeling of receiving a new package can bring an unrivaled feeling of joy. In the modern day market, budget shopping can be a major factor that pushes a consumer to buy a product. Consumers are looking for lower and lower prices, which has induced a rise in popularity of online stores featuring cheaper using foreign-produced products. While the prices may be tempting, there are issues lurking behind the shadows that a consumer may oversee.
Social media advertising is proving to be the future. More and more companies are focusing their marketing budgets on digital advertising. Targeted advertising is a tool that many companies take advantage of. They utilize the data collected on a potential consumer and generate advertisements specifically tailored for that consumer. Targeted ads offer a significantly higher conversion rate, this can be attributed to the consumer already being interested in the product or service. 
Celebrity endorsements have been a form of advertising for decades. Now, due to the rise of social media and the role social media influencers play on the average consumer, sponsoring social media stars has been a marketing method that is on the rise. An influencer is capable of building a different kind of connection with their fan base than a typical celebrity. Due to their connection being much more interactive and personal, sponsorships have grown as a means of advertising. 
Student Body Survey
A survey conducted at OHS among students was sent out asking about students' tendencies as a consumer. 61.9% of students said that they care "some" about businesses' ethics when purchasing from their company. Out of that same survey, 76.2% answered a seven or higher on a scale of one to 10 regarding how much of a role price makes when making a purchase, with 10 being the only factor and one being not a factor at all.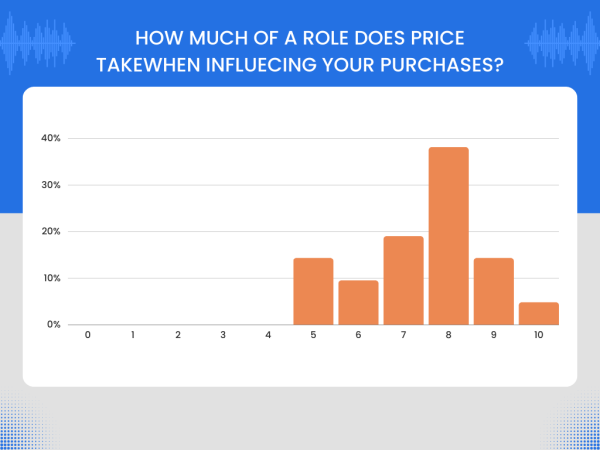 OHS students showed that they do care about businesses' practices, like environmental impact, but the strong majority of responses indicated that price has the final say when buying a product. The meteoric rise of these companies also attests to this conclusion. 
Shein
Shein is a company founded by Chris Xu in 2008. It was founded in China, but is now located in Singapore. Shein is known for their incredibly cheap prices on a variety of articles of clothing and other miscellaneous products. The company became the world's largest fashion retailer in 2022, with an evaluation of over 100 billion dollars. Now, in 2023, the company's valuation has fallen to around 64 billion dollars amid controversy. Shein is not publicly traded on the United States stock exchange.

Many concerns have been raised regarding Shein, the most prominent of which being the environmental impact of the company. With global warming awareness on the rise, the effects of fast fashion on the environment has been brought into the limelight. 92 million tons of pieces of clothing end up in landfills every year, the equivalent of one garbage truck full every second.  Shein, being one of the largest fashion retailers in the world, have been called out for their contribution to the pollution epidemic.

The company is known to use cheap polyester-based materials in their clothing, this is an issue because their clothing ends up in the landfills as previously mentioned due to their poor production quality. The articles can take decades, even centuries to decompose.

"

I think businesses have a social responsibility as far as whatever their footprint is to not leave back a lot of pollution or damage the environment.

— Mr. Bradley Scharber

Business teacher and DECA adviser, Mr. Bradley Scharber said, "I think businesses have a social responsibility as far as whatever their footprint is to not leave back a lot of pollution or damage the environment. I think they need to provide products that are safe for the people that are buying them and what they say they're offering is actually what it is meant to be, but businesses are about making money and usually when people want to make a lot of money, that's when they compromise their ethics."

Junior Lilly Trager is a student at OHS  who took the Fashion Merchandise and Design class. She defined fast fashion as, "Trends that come and go, that aren't really meant to stay."  This ties to Shein…Trager also said, "I think the point of making a product is to have something that people can hold on to." She is concerned about the over-production of products with short life spans. Trager said, "I don't think it [fast fashion] is very good because you get a lot of product waste, and also factories manufacturing, pollution and all that stuff too, like massive wastelands."

Shein and other foreign companies have also been called into question regarding their working conditions for their workers. Channel 4 UK conducted an investigation on Shein, where they found evidence that Shein was abusing their workers. According to an article by Sangeeta Signh-Kurtz on thecut.com, "Workers receive a base salary of 4,000 yuan per month — roughly $556 — to make 500 pieces of clothing per day, and that their first month's pay is withheld from them; in another factory, workers received the equivalent of four cents per item."

 It was found that workers in both factories were working up to 18-hour days, and were allowed only one day off a month. In one of the factories, women washed their hair during their lunch break. They were docked pay for mistakes made on clothing. What the investigation found was against China's labor laws. For reference, the cost of living in China is on average, 52.6% lower than in America. 

Finally, Shein has been involved in a RICO (The Racketeer Influenced and Corrupt Organizations Act) case. Shein allegedly stole several designs from smaller fashion designers and sold them as their own. Three artists — Three artists — Krista Perry, Larissa Martinez and Jay Baron — allege that Shein made exact copies of their work without their knowledge, behavior that is part of a larger pattern of unethical business practices, including decimating the environment, fostering unsafe working conditions and avoiding paying taxes. Shein offered the artists' a small sum of money for their stolen work after they were caught. All of the artists' declined.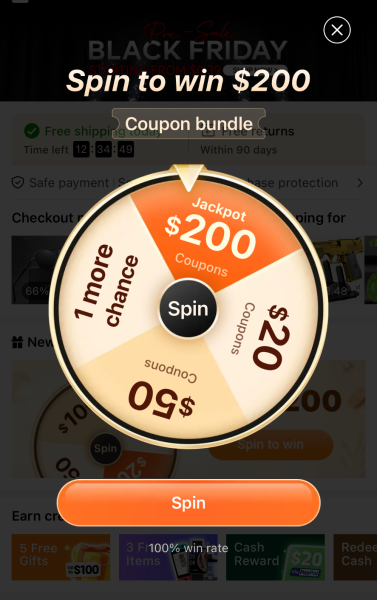 Temu
Temu is an e-commerce company, similar to the likes of Amazon. It operates by carrying merchandise from individual sellers, therefore cutting out the middleman. It is owned by a Chinese parent company PDD Holdings Inc. Temu's business motto is "Shop like a billionaire." It boasts incredibly low prices, such as $15.48 for a waterproof smart watch. It also entices the buyer to buy by offering many options for coupons or discounts when one opens the app or website. Almost all items include a tag boasting their discount, which oftentimes is above 50%.

Temu is known amongst consumers to carry replica goods. They sell items that are blatant counterfeit, for example a replica of the Christiano Ronaldo mercurial soccer cleat, with one of the only differences between the two being an altered version of the Nike swoosh, and the price. The Temu cleats can be purchased for $14.37, whilst the original cleat retailed for $275. 

Temu utilizes a very aggressive marketing strategy. They know that a lower price sells, especially in online stores. Business teacher Mr. Bradley Scharber gave insight on how consumers, especially in the US, think. Mr. Scharber said,"I definitely do not think it (businesses' ethics) affects the consumer in America because they don't see the effects it's having on the people in other countries, which is kind of probably the way I see it too." It is easy to lose sight of what is going on behind the scenes, especially when one is bombarded with such low prices.

Temu is no stranger to controversy and issues. Temu struggles with customer reviews. The Better Business Bureau gave it a C+, with over 1,000 complaints. Many of those complaints are regarding the shipping and customer service, with many accounts sharing that they have yet to receive orders and cannot get their money back. Similar to Shein, there is concern over their production of cheaply made products and their waste contribution. 

Despite these alleged issues, Temu has had incredible success over the past year, as it was the most downloaded app for a period during spring this year. Temu's gross merchandise volume, which is total sales before expenses, surged from $3 million in September 2022 to $192 million in January 2023. By the end of the year it is estimated that Temu will be doing more than $1 billion monthly GMV.

Similar to how businesses compromise their ethics when it comes to money, consumers are often willing to turn a blind eye when it comes to saving their precious dollars. It is easy to talk the talk and say that one's purchasing habits reflect their views, but walking the walk proves much harder. It ultimately comes down to the individual, what they value and the information they oversee. 

"

Integrity itself means having a set of strong ethical values and not compromising yourself.

— C.S. Lewis

Famous author C.S. Lewis once said, "Integrity itself means having a set of strong ethical values and not compromising yourself. It's about doing the right thing rather than doing what's easy. We read inspirational books and quotes about doing the right thing, but very few of us actually practice it in our real lives." Consumerism is and will continue to be a core part of American society, regardless of the pros and cons.