Preparing for the future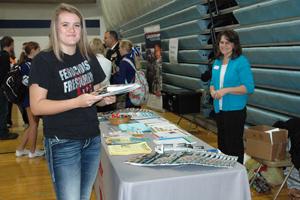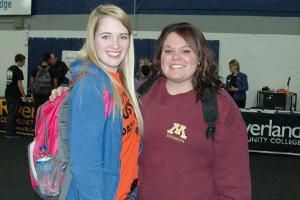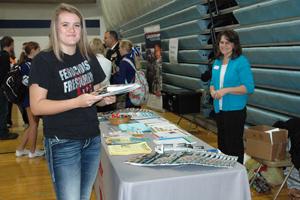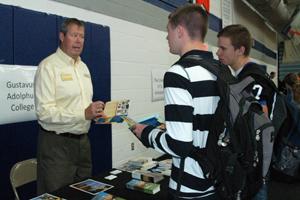 Many think the day before an upcoming break will be just that- a break. However, students were ushered into the OHS gymnasium to a bit of a surprise on Wednesday morning. Covering the mats that line the gym walls were booths for different colleges and careers. Students had the opportunity to explore different post-secondary schooling options and gain a better understanding of what careers they may be interested in after school. There was a buzz in the gymnasium due to the conversations between the students and college representatives. Ethan Pfieffer, a senior at OHS said, "It was awesome to see all of the different schools around the state being represented and the different majors they offer. I think the school did an awesome job putting this all together for us today."
Colleges such as St. Kates, Hamline, Riverland and many more were present equipped with recruiters and fliers for students to talk to and read.
Doug Minter, the Dean of Financial Aid at Gustavus said, "Everyone is so excited, they come from all binds of life and they don't know what they want to do yet." When asked about his favorite part of assisting in college recruitment, Minter said, "I love watching people go through the process. They enter and throughout their college experience they sort of blossom and grow. Alumni have such a connection to their colleges." Currently, six OHS teachers are graduates from Gustavus.
Representing Work Force Center was Sue Wood. Wood is passionate about her career because she enjoys helping students find their niche in life. "Educating young people on careers is something I'm really passionate about because it will affect their entire life." Wood says that though it is important to think about the availability for your career, it is vital you go into a career you are passionate about. For example, she noted that if you were a female and pursue a career in Agriculture, there would be a high chance of receiving a job due to lack of females in that career area; however, if agriculture is not your passion, that information would not do you any good. Many students may be unsure of what the future holds for them but events like this provide options for routs to take towards their future.  After today many students will understand that although the hassle is worth the tassel, the real hassle begins after graduation.
About the Contributor
Maureen Gleason, Writer
Just a girl living her dreams and life to the absolute fullest every second of everyday; with each bite of food and hour slept, with each wait at a stop...