Red Ribbon week kicks off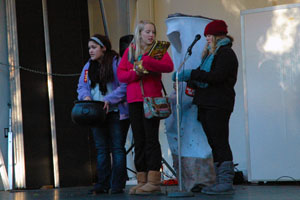 SHOC is a group of students who help others stay away from substance abuse. There are many students involved and they are very active in Red Ribbon Week, which is their main event coming up. It is a week that everybody talks about. Every year, the Owatonna High School is presented with a red ribbon in advisement representing a pledge to stay drug free. The SHOC leader, Mrs. Sandra Noeldner, said, "SHOC has been here for a really long time. My hope is that the group is not viewed as judging kids. Instead, SHOC is a group of students who want to help people make the pledge to be drug free." The Red Ribbon Week runs from Oct. 21 to Oct. 27. The week starts with a kickoff at Central park which is welcome to all ages. "The kickoff sends a good message and it's a good time to spend with the family," said Mrs. Noeldner.
About the Contributor
Madie Kelling, Writer
"I believe in everything until it's disproved. So I believe in fairies, the myths, dragons. It all exists, even if it's in your mind. Who's to say that...