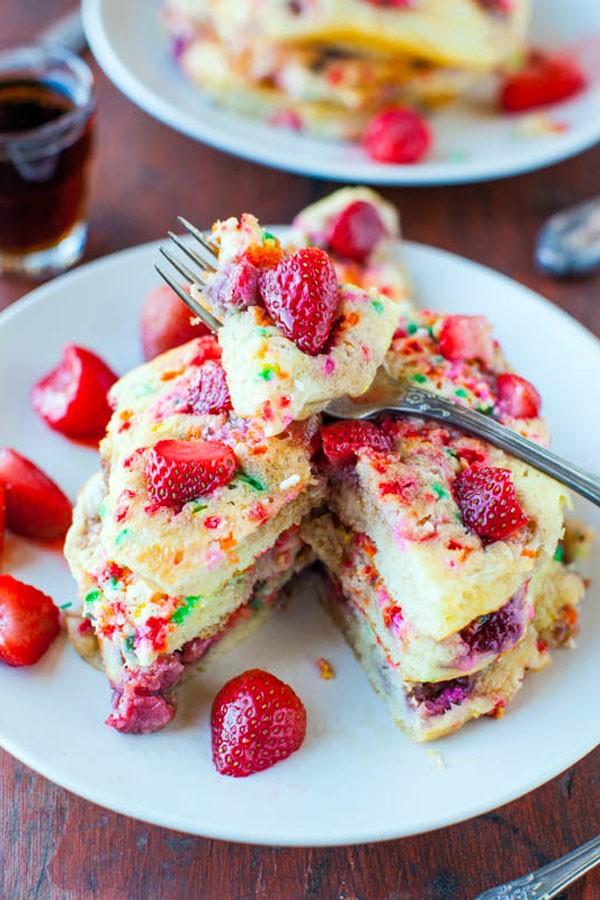 Strawberries and Sprinkles Buttermilk Pancakes
Since Valentine's day is on a Sunday this year, what better way to celebrate than with breakfast? This strawberry and sprinkles buttermilk pancakes recipe is sure to impress. And, because it's so pretty, don't forget to Instagram a picture, too.
Ingredients:
1 cup all-purpose flour
2 tablespoons granulated sugar
1 teaspoon baking powder
1/2 teaspoon baking soda
1 cup buttermilk
1 large egg
2 tablespoons canola or vegetable oil
1/2 teaspoon vanilla extract
1 cup roughly chopped strawberries
1/3 cup sprinkles
Instructions:
In a medium mixing bowl, add flour, sugar, baking powder, baking soda, optional salt, and whisk to combine; set bowl aside.
In a large measuring cup, add 1 cup buttermilk, egg, oil, vanilla, and whisk to combine. Pour wet ingredients over dry, and mix until just moistened. Don't overmix! Lumpy batter is what you're looking for and it'll be quite thick. If it seems too thick for your liking, add an additional splash of buttermilk (1 to 3 tablespoons). I used 1 cup plus about 2 tablespoons.
Spray a large, non-stick skillet with cooking spray, and heat over medium-low to medium heat. Once skillet it hot, using a one-quarter cup measure, scoop batter into skillet. I make 3 pancakes at once. Sprinkle on about a dozen strawberries pieces to each pancake. Cook first side for about 3 minutes, or until underneath is golden and set (the tip about bubbles appearing in the pancakes when it's time to flip wasn't my experience and with strawberries covering a large surface area, even harder to see any bubbles; don't wait for them to appear).
Right before you're ready to flip the pancake over to cook the second side, sprinkle generously with sprinkles, at least 2 tablespoons per pancake. Flip carefully and cook second side until done and golden, about 3 minutes. Repeat process with remaining batter.
Serve pancakes immediately with whatever toppings you want.
See the full recipe on Averie Cooks.