Overtime Heartbreak
Huskies lose in the first round of the State Soccer Tournament.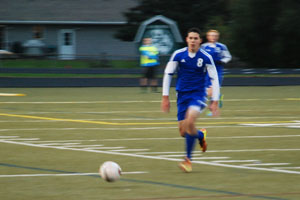 The Owatonna boys soccer team played their hearts out against Eastview in the first round of state. Starting off with a strong lead and getting a goal off of a penalty kick scored by senior captain Joe Nelson. Eastview was a tough competitor. Coming back from winning state last year they were not going to make this a walk in the park. Both teams were equally skilled and kept on battling for the win. Eastview ended up scoring with 5 minutes left putting the two teams at a suspenseful standstill. Both of the teams had there fair share of scoring opportunities. The game ended up going into overtime, which meant whoever scored was heading to the dome. Sadly the outcome was not one that the Huskies and fans expected. Eastview scored deflecting off senior goalkeeper Carter McCauley and entering the net. The season ended after an overtime loss 2-1.  OHS will graduate 13 seniors this year.
About the Contributor
Ethan Anderson, Author
I play soccer and I am an author of the Magnet. Mrs. Wagner is awesome and so is food. Junior class of 2015. Social media is my life. Twitter. Instagram. Welcome...