A Whole New World
Many students have big plans after graduation. While some plan on having parties to celebrate finishing high school, others dream of traveling the world. So, many students were surprised to find out that their dream was about to come true and they would not have to wait any longer. This summer, Owatonna High School is hosting three trips to Europe for any students interested, two of them being a joint trip and the other a separate voyage. The chosen destinations for the summer of 2016 are Rome, Greece and France.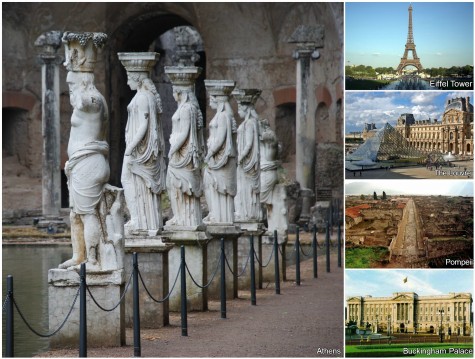 Greece and Rome will be a joint trip this summer. The trip is currently being hosted by Erin Halverson, an OHS Social Studies teacher. The trip is said to be held on June 25. through July 3. This would be the second visit that Mrs. Halverson has made to Rome and Greece, the first being back in the summer of 2014. However, for the fourteen other students currently registered for this trip, it will be a whole new experience for them. On the first day of the trip, students will fly into Rome and visit Pompeii. Then throughout the next few weeks they will travel across the Italian Peninsula and take a ferry to Greece, visiting cities such as Athens, Olympia, Mycenae and Epidaurus. As for the funding for this trip, students are responsible for taking the initiative to conduct fundraisers ranging from selling Celestial Candles and Hy-Vee poinsettias around the holidays, conducting a spaghetti dinner that they have done for two years in a row, to the Buy Me Lunch in Italy fundraiser in an effort to raise enough for their trip. Even the supervisors get to learn a little something. Mrs. Halverson said, "I have been to Italy and Greece, but I have not been to Pompeii. So, I'm looking forward to that, that will be new for me."
"
I am most excited to watch the students engage with the language and culture. It is so much fun to watch their faces when they see the Eiffel Tower for the first time or when they speak to a French person and realize 'It works!'"
— Mrs. Ingvaldson
Mrs. Michelle Ingvaldson, one of the French teachers here at OHS, has recently taken up the responsibility of hosting this year's trip to France and London. She will be accompanied by both Mr. Prafke and Mrs. Shives as chaperones. Many students are looking forward to putting vigorous effort into perfecting the language that they worked hard to learn throughout high school. The World Language department has been trying to consistently organize student trips to France every two years. This two week trip will take place from June 14. to June 30. While this expedition is labeled for France, the eighteen students that have signed up will soon be visiting eight different cities entirely. These include Paris, Monaco, Nice, Avignon, Carcassonne, St. Malo, Bordeaux, Normandy and London. These students will also have the incredible opportunity of touring the Notre Dame Cathedral, Eiffel Tower, Big Ben and Buckingham Palace.
It didn't take long for the attendance spots to be filled for these trips, considering that many students have been eagerly awaiting their sign up dates ever since they were first posted. And now the time is almost here for their departure. To find out more information on these trips, contact Mrs. Ingvaldson or Mrs. Halverson in the Language Department.