The road to recovery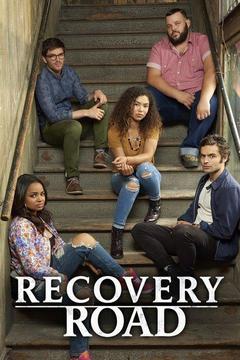 Taking real teenage and personal dilemmas, Recovery Road makes its stance on the television screens. Airing on Freeform, right after The Fosters every Monday night, Recovery Road, based on a young-adult novel by Blake Nelson, follows Maddie Graham (played by Jessica Sula), a teenager in high school. Maddie has the reputation around the school as the "party girl." It soon becomes a normal routine for her friends and her, as well as her boyfriend, to go to parties, get wasted and do drugs. Maddie was at the high of her life, and she had no intentions to stop. But as Maddie is awaken by sprinklers, as she lay sleeping on a random person's lawn, with no recollection of the night before, the audience sees it has gone too far. The show begins with that scene, transitioning to her at school and then ending up in her counselor's office. Cynthia Molina (Alexis Carra), for illegally having a water bottle filled with alcohol in her locker. As Maddie's mother, Charlotte Graham (Sharon Leal) sits next to her, they discuss the serious problems that this has caused for Maddie and the punishment for her actions and things go down from there. After being unable to get through to Maddie about her addiction, Cynthia tries to come up with a compromise. Maddie is then left with the punishment of either being expelled from her school or attending a rehab center every day after school until she can recover. Repulsed with the rehab center even being considered, Maddie is left with a hard decision to make, but she made it. The rehab center it is.
On that same day, Maddie packs her things and makes her way to live in a sober house with others who are also in the process of recovering from some sort of addiction, whether it was drug or alcohol related. Her life starts to become disconnected from her friends, and as she continues to conceal her secret of living in a sober house, drama begins to stir. This was now Maddie's life, having to go to school by day and spend her nights in the sober house. Maddie has to face the pressure that comes with being a teenager trying to become sober.
What many people do not take into consideration is that many people, including teens deal with alcohol and drug abuse. Some chose to seek help, while others continue with only bad things ahead. So, the importance that this show is revolving around is an important topic that not many others want to talk about, but this is a serious issue that needs to be recognized. According to the National Institute on alcohol abuse and alcoholism, in 2013 86.8 percent of people ages 18 or older reported that they drank alcohol at some point in their lifetime, while nearly 88,000 people (approximately 62,000 men and 26,000 women) die from alcohol-related causes annually, making it the third leading preventable cause of death in the United States. This not only can affect a person, but it can break families apart as Recovery road demonstrates in the show.
This show not only presents to people who may have trouble admitting they have a problem that it is a problem, it also shows them that they are not alone. According to Addiction Center, tens of millions of Americans use prescription medications non-medically every year and overdoses caused by painkillers are more common than heroin and cocaine overdoses combined. In this day and age things are beginning to change and some people chose to ignore the issues that some people and teenagers are dealing with, but as the world evolves some television shows want to highlight and display issues that no one wants to admit is happening to people close to them. The fact that Recovery road is taking a stance on creating a storyline revolving around an innocent teenager in high school dealing with alcohol and drug abuse and going to a rehab shows that there are people willing to help. It also displays to the audience that this can happen to anyone of any age at any time and that they are not alone in the process.
Life in the house is not easy for Maddie and neither is it for anyone dealing with this, but she has to see it through until she can become sober. Essentially, Recovery road's plot is strong, although it can be predictable at times, the purpose and message stays intact.
The question that lies is will Maddie be able to keep her secret life after school under wraps from her friends, or will the pressure break her in the end? To start watching Recovery Road, tune in to Freeform every Monday from 9:00 to 8:00 p.m.
About the Contributor
Lupe Gutierrez, Writer
I am a senior and a writer for Magnet. I laugh at anything most of the time, hence my love for comedy, but sadly I'm not funny at all. So, If you need...