OHS Speech Team preparing for the end of the road
The Owatonna Speech Team has had a good start. After their weekend off for the musical, the team did very well at Medford High School's first ever speech meet on Saturday, March 5. Head coach Lauren Gendron said, "The Medford meet was probably one of our best meets we've had so far! We had a lot of members earn personal best and place very well in the large school division." 
"
The Medford meet was probably one of our best meets we've had so far! We had a lot of members earn personal best and place very well in the large school division."
— Coach Lauren Gendron
The team took second place in the large school division, and many of the members placed, some for the first time this season. There were four members that placed sixth, six members placing fifth, two members placed fourth and multiple honorable mentions. Senior Gabe Phillips and sophomore duo partners, Emma Stockwell and Lydia Weisenburger, led the team in third place finishes. This was a very impressive win for the team, especially as they look forward to the tough competition ahead.
The week of March 7-12 is known as "Speech Week" by the team, who are busy preparing  for Owatonna High School's home speech meet. Junior captain Britta Gantert said, "On Monday night, we started preparing for the week with a parent meeting. Friday, we'll start setting up the rooms, and then we'll be at school bright and early Saturday morning for last minute set up and competition!" The team has already started putting some of the final pieces together- their tournament will run smoothly when Saturday arrives!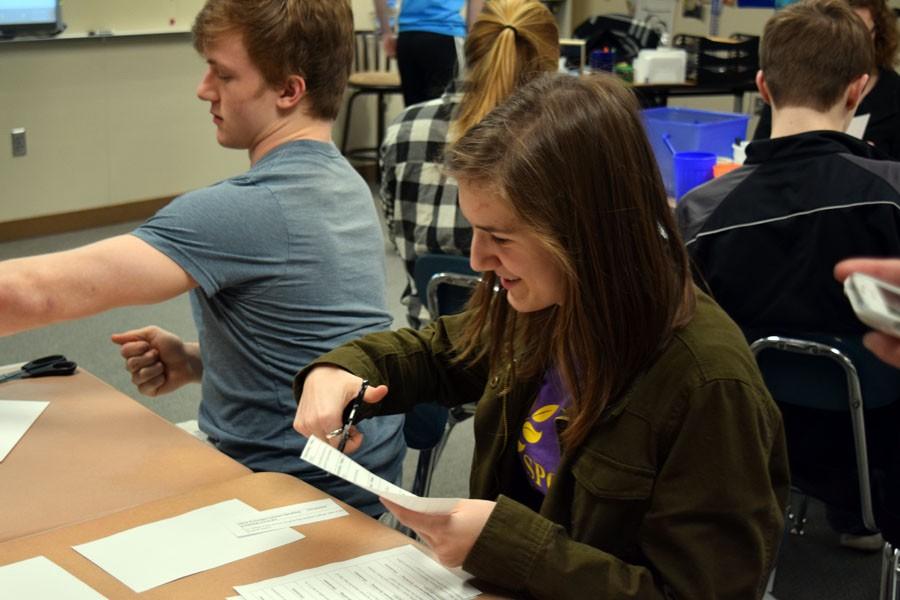 Competition will be tough at the Owatonna tournament, which is normal. Out of courtesy to other teams, the Owatonna team will not be allowed to place. However, it will be good preparation for the Big 9 Conference meet taking place on Tuesday, March 15. After Tuesday, the team will be on their way to their last regular season meet in Northfield, and then back at Northfield for sections on April 7.
On Saturday, March 12, come support the speech team! The round times are 9:15 A.M., 10:30 A.M., 11:45 A.M. and finals are at 1:30 P.M. Awards are predicted to begin at around 3 P.M. Good luck, speechers!
About the Contributor
Katie Skalicky, Writer
Katie is a first year Magnet staff member and a senior at the Owatonna Senior High School. She is involved in many activities including Lacrosse, Tennis,...