State Success
Be Epic. This was the theme of the 2016 Minnesota DECA State Convention, and the Owatonna High School students involved in DECA fit that description.
The State Career Development Conference took place on March 6-8. The Owatonna chapter members who qualified for state were excused from school on Monday, March 7-8, but that didn't stop them from learning. With 59 members participating in the State Competition, Owatonna DECA was well represented in Minneapolis.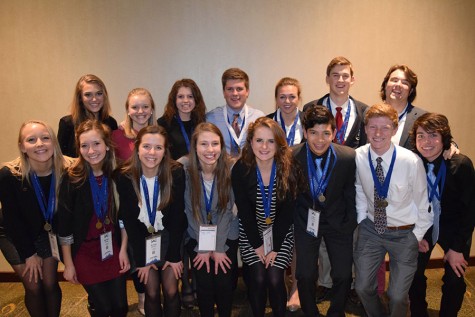 Not only did over half of the Owatonna DECA members make it to the State Competition, some went above and beyond and made it into the final round of the State Competition, and seven students qualified to go to the DECA International Career Development Conference (ICDC), which will be held in Nashville, Tenn. where they will be joining 16,000 members throughout the United States, Canada, Mexico, Guam, and Puerto Rico. They will have the chance to compete for scholarships and National awards. The National Competition will take place April 22-27.
Advancing to the finals of the State Competition were: Mark Hanson and Brooke Otterson, Samantha Schuster, Karissa Hilstad, Maria Golberg, Jenna Rhoades and Hannah Cochlin, Luke Bunkers, Elena Bueltel, Mark Hanson, Riley Arthur and Nick Heisler.
The students that advanced past the final round of the State Competition and will be headed to Nashville, Tenn. to compete at the International Career Development Conference are Alex Emanuelson, Brooke Otterson, Karissa Hilstad, Anna Keltto, Brady Ruiter, Riley Arthur and Lydia Anez. Anez and Hozerland placed 2nd in the state in Marketing Communications team role play along with Keltto, Hilstad and Ruiter placing 2nd in the Learn and Earn Chapter Project. Otterson, Anez, and Hilstad also received an award for Outstanding DECA members in their chapter.
Everyone had an amazing time at the State Competition in the Twin Cities. The experience is something they will never forget. National qualifier Lydia Anez said, "2016 DECA State was my favorite conference I've ever competed at. Mr. Pierce received the Honorary Life Recipient Award during the final ceremony; it was such a special moment for Owatonna DECA students. We also had more kids than ever before make it to Finals and qualify for Nationals which is more than ever before."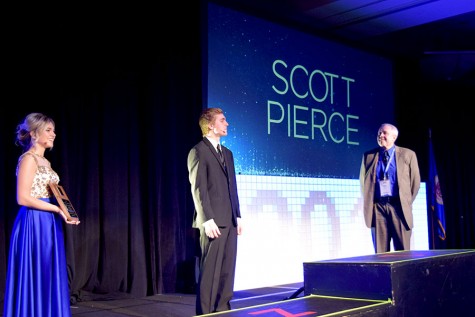 "
"It is nice to be recognized for your efforts, and it is very humbling to join the list of the other recipients. "
— Mr. Scott Pierce
Owatonna DECA advisor Scott Pierce was recognized for the 2016 Honorary Lifetime Recipient award. He spends his time teaching students new things about DECA and coordinating activities at the District and State Competitions. He was truly deserving of this award. When asked about what it meant to receive such an award, he said, "I was very honored to accept the Honorary Lifetime Award. It is nice to be recognized for your efforts, and it is very humbling to join the list of the other recipients. I enjoy being a part of DECA because of the value I see to our students, and I get to work with some awesome kids." Scott Pierce also received DECA advisor of the year for the state last year. He has been running the Owatonna DECA program for 12 years.
Congratulations to all DECA members for a good State Competition and good luck to the students participating at ICDC in Nashville.