One for all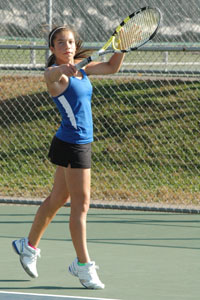 Junior Briana Hartmann, the lone wolf from the girls tennis team, made another appearance at the State Tournament for tennis. The section champ wasn't new to the competition, either.  Last year, she got her first chance to make her name known at the state level. This year, on Oct. 24 and 25,  she got another. The State Tournament is a nerve racking event for any team, and going in solo made the weight of it all rest solely on her shoulders. To prepare, Hartmann said, "I just thought that I needed to stay consistent and play how I did at sections. I just needed to stay focused."
Hartmann represented the team exceptionally well, battling for a win in the first round. The two hour and twenty minute match showed her determination and dedication for glory. Going 4-6, 6-4, 6-3, the two girls gave their all as they fought. She came up short however and the long road to state ended after a well fought round.
And that was that for the team. They ended their season third in the Big Nine and at some points in their season, ranked amongst the Top 10 in the state. With only her senior season left, there are hopes to make a third appearance, and bring home the win.
About the Contributor
Kody Stenzel, Writer
I live and breathe The Magnet.

I socialize on the media.

I read books.