All Business All Year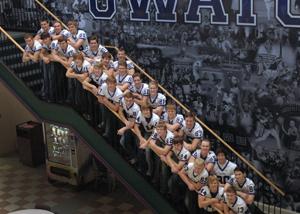 Although the OHS football team will be playing in what many consider the most important game of their lives, the boys are preparing for the game just as they have all season long. Coach Jeff Williams said, "It's been all business this year for our guys. We haven't seen a whole lot of celebrating this year from the team in big moments which is great because it just shows what high expectations the guys have set for themselves." This senior class has certainly left their mark in OHS sports history for years to come whether it was a tremendous 35 point comeback against Faribault or beating the Rochester schools by a combined score of 200 to 0 or upsetting St. Thomas in the Metrodome.
As this team prepares for Thursday's game, they plan to prepare the same as they have been all year. Senior and Captain Ty Sullivan said, "Experience from last year will help us going into Thursday but we plan to take on Apple Valley just like we would any other team." That experience is what has driven the guys all year. Losing the state championship game last year is what fueled their effort to get back to the Dome to this point.
Many would say that team chemistry is what makes a group of guys who play the same sport into a team. The OHS football team is considered by many to be a brotherhood and although that may seem cliché, their efforts to come together on and off the field have definitely brought the guys together as a unit. An event known by the guys and around the school known as "PR Wednesdays" is something that the team does every Wednesday where they have dinner at Pizza Ranch. Little things like this are what it takes to bring a team together in order to be successful. When asked about some of the memories that define the senior class portion of the football team there were many light hearted things. Andrew Peterson said, "I will never forget the Faribault game from last year but I will never remember this year's Rochester Century game because of my memory lost I received from my concussion." There were also a few more down to Earth responses as well. Aaron Peterson said, "Some of my greatest memories are being able to look out into that sea of blue and seeing all of your friends and classmates cheering you on no matter who we are playing." With the win against Mayo the team moves to 10-0-0 on the season.
The team has achieved some great things this year like their big win over Mankato West and the section title win over Rochester Mayo. In regard to Saturday's win Coach Williams said, "Typically with a section title win, guys usually have some fun with the trophy and parade around a little and have a good time. This year it was a bit different. The guys had some fun with the trophy but the trophy eventually made its way into the corner of the locker room which shows that our guys have greater aspirations than what they have achieved thus far." Their next game is Thursday at Lakeville North against Apple Valley at 7:00.