Kick-starting careers
High school is a time to make friends, have fun and learn. It is also the time that students start thinking about future careers. Owatonna High School Mentorship is an option designed for students to explore a career they might be interested in, and work with someone who has experience in that field of work. The OHS Mentorship program began six years ago and since then it has helped students in a significant way. Mentorship Coordinator, Val Rose said, "I have seen mentorship open doors for students. It helps provide focus and direction for them as they enter their field as well as a network of people they can talk with and reach out to."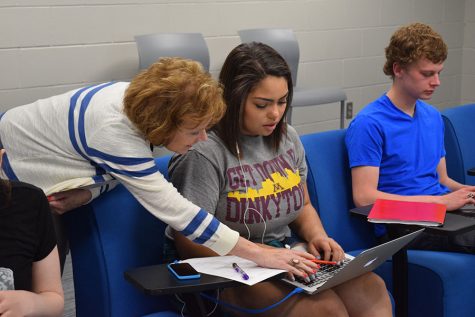 What students can do through the OHS Mentorship program is practically limitless. Mentorship has allowed students to work with doctors, surgeons, nurses, chiropractors, physical therapists, dentists, engineers, teachers, cosmetologists, architects, photographers and even fashion designers. Most students work with their mentors in town, but several mentorships have been done in the Twin Cities and Rochester. Mentorship allows students to reach out to many areas of the community and leaves an impact on students regardless if they choose that career field or not.  OHS currently offers approximately 40 mentorships through the Options program this year.
Mentorship allows students to have a hands-on experience and to see for themselves what goes on day to day in the workplace. Senior Kayla Gryniewski, who did a mentorship in a kindergarten class at Washington Elementary School, said, "Through mentorship, I learned how a class functions and skills to help me become a good teacher one day. I was allowed the opportunity to help the kids with things they needed and I was able to observe the classroom. It has made me really excited for my future career and it has shown me how to be professional in a workplace."
The OHS Mentorship program has taught students to take what they learn and apply it to the field they are interested in with the help of experts. Val Rose added, "A lot of students come back and say that mentorship has made a difference to them and I am thankful that people in the community are willing to give students this amazing opportunity."
If students are interested in the OHS Mentorship program they can sign-up for options or talk with Mrs. Val Rose in A Plaza.