Outdated downtown needs a youthful makeover
Katie Reneau & Lupe Gutierrez Edited by Derek Roemhildt
Editor's Notes: This is part three of three- part series on teens and substance abuse.  Parts I & II were published earlier this week.
Generally, it can be understood amongst high school students that weekend plans don't revolve around a time limit of 5 p.m. However, for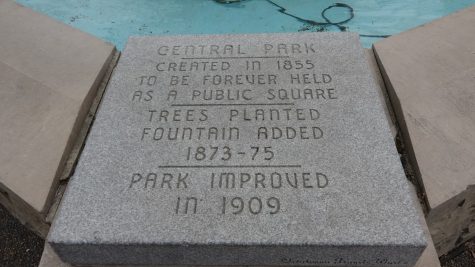 some reason, downtown Owatonna has been expecting teenagers of exactly that. Many think that it is a time for a change. There are a few options for the students such as the skate park, Brooktree golf club and the hockey rinks, but these activities only target those interested or talented at those activities and are losing their touch after being around so long. In addition, Central Park hasn't been improved since 1909 which was over one hundred years ago. While students who have their driver's license may have the ability to drive out of town in search of something to do with friends, they are quickly met with the reality of escalating gas prices. Not to mention the students who are too young to drive or have restrictions that prevent them from doing so. In the end, both age groups usually find themselves stuck within the perimeter of the town. Even if they find something, they will get there just to find that the establishment closed at 5 p.m. and the sky has yet to darken.
Many high school students have agreed that Owatonna could use a bit of a facelift when it comes to downtown. Senior Gabriel Phillips said, "Downtown Owatonna needs some work and it doesn't help when you have the only good shops closing." Phillips not only references to the stores that have closed down in the past years, but also the change in hours for the shops still up and running. Practically all of the stores found in downtown flip the close sign at five p.m., some even earlier. Downtown is more like a ghost town on Sundays, seeing that almost every store is closed all day. Although downtown is made up of more than just shops, there could be more activities organized for teenagers to participate in. However, Owatonna is lacking in that area. There is next to nothing for teenagers to do in their off time in town. This contributes to growing numbers of teens are participating in more 'exciting' activities such as drinking, substance use and other felonies.                                                                                                                                                                                                                           
"
There's things to do out there, if people take the initiative to go and do them"
— Jerry, Tone Music
Although, it would not be fair to throw downtown under the bus entirely. It was only recently that Owatonna has started to make slow progress towards making the town more appealing to teens with the installment of River Springs Water Park and the most recent renovation of Sparetime bowling alley. As well as the new owners of Old Town Bagels having made some updates to their menu as well as its interior, bringing a west coast look to the bagel shop. Central Park Coffee is also another underrated spot that students could take their friends to hand out at after school. Many teenagers themselves work at the trendy coffee shop which features artwork by Owatonna residents and various trinkets up for sale. Jerry, the owner of Owatonna independent music store, Tone Music, said, "There's things to do out there, if people take the initiative to go and do them." Tone Music itself also features many products that musically inclined teenagers are craving. They feature a constant supply of affordable vinyl records, used CDs, new or used instruments, and more.
And of course, every summer there is downtown's Crazy Days where the shops move a portion of their merchandise outdoors and usually mark their prices down. There is also the farmer's market that takes place on Saturdays May to October from 7:00 a.m. to 1 p.m.  It is a nice chance for those who make homemade foods or trinkets to sell their work and ones who are interested to buy. However, Northfield which is found just thirty minutes north has a thriving downtown, filled with foot traffic on the weekend. Comparatively, downtown Owatonna can seem like a ghost town to young and old alike.
It is clear that Owatonna has many opportunities for growth, it is simply a matter of acting on them. Jerry reminisced about helping his sister with the prizes for a Battle of the Bands and expressed how great it was to see the teenage community come together. He also hinted at a possible discussion of an open street day coming up in the future where the streets of downtown would be closed off to traffic and reserved for pedestrians only. While these efforts are no doubt acknowledged by the teenage population, it is widely agreed that more could be done to make it more appealing to them.
To read more about this subject, look out for other articles this month that feature downtown.
About the Contributor
Taylor Spaar, Staff Writer
This year, I am a sophomore and work as the Editor-in-Chief for my second year back in OHS Magnet. As you could probably guess, my favorite subjects...