Stepping up to the plate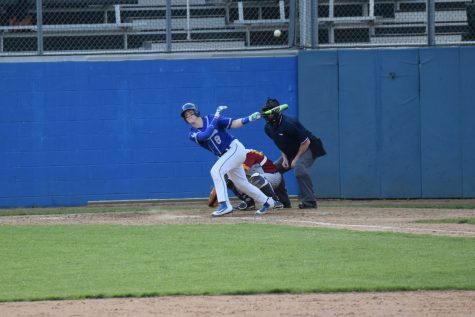 The Owatonna Huskies Baseball team was on a roll. Sitting with a (7-2) Overall record and a (5-1) Conference record, the Huskies were playing great. It was safe to say that it was very smooth sailing for the Owatonna Baseball team, but just when no one expected it, the tide changed. The Huskies were looking for their seventh win in a row against the Faribault Falcons team that had not won a game yet this year. The Huskies did not receive their seventh straight win in a row, but what they did get was a good lesson. You must show up to play every day or you can lose to any team on any given night. Head Coach Tate Cummins said, "Baseball is a game when it's going well it can seem like nothing can go wrong. On the other hand – it can go the other direction in a hurry. It can be the most humbling sport at times. We've experience the ups and downs through the first half of the season, which is awesome. We want a team that can deal with some adversity in the Section tournament. We will keep on improving and working hard." It will be interesting to see how the Huskies play with nine regular season games remaining.
The Huskies Baseball team currently has a (7-4) Overall record and a (5-3) Conference record. The Huskies suffered a tough (14-3) defeat to Rochester Mayo, immediately following their loss to Faribault. Although, the past two games have not gone according to plan, the Huskies still are very optimistic about the end of their season. Junior Kodey Kiel said, "I'm looking forward to a strong finish to the season. Hopefully we can get good momentum going for a playoff run.'' The Huskies hope to regain their form and have a strong second half to the season.
Come Cheer on the Huskies at home as they take on the Albert Lea Tigers on Tuesday, May 10, at 5 p.m.