Awarding academics, arts and athletics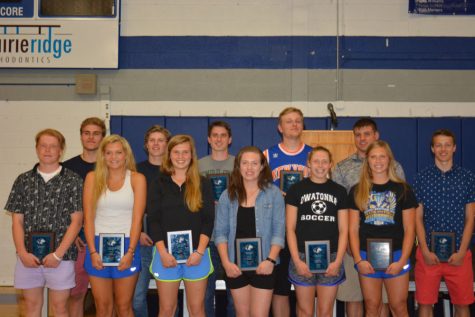 Owatonna High School held its annual Activities Assembly on May 25. Here athletes, actors, and members of other activities were honored by their teachers, coaches, and peers. The festivities began with the honoring of the Junior ExCel winners Britta Gantert and Ethan DeKam. Next up was the AAA winners from the Senior class, which awards excellence in academics, athletics and the arts. This year's recipients were Ryan Guenther and Tessa Rahrick. The next section of the ceremony recognized individuals who impacted the fine arts department. Theater director Mr. Eitrheim honored OHS seniors Gabe Cardiff, Jaylin Evert, and Lucas Arndt.
Mr. Guenther came next to present All state music awards for band, orchestra, and choir. These recipients included: Erin Ackman, Windham Anez, Bernadette Donlon, Darik Elstad, Ian Crum, Jenna McMains,Tessa Rahrick, Thomas Pfeifer, Emily Paape, Eric Benson, India Enter, Zacharaiah Granowski, Herbie Rand, and James Rand. Herbie Rand and James Rand were also selected to play in the  National Orchestra. Senior Riley Arthur  received the National Orchestra Award. Luke Berkley was also selected to play french horn for the National Band.
After the arts portion concluded, the athletics section began by Mr. Swanson naming all individuals  who qualified for a state tournament either individually or as a team. OHS had yet another impressive year, with students from DECA, BPA, FFA, and a multitude of sports qualifying and succeeding in state. State champion wrestler Brandon Moen commented on the feeling of winning a state title, saying, "It's really exciting to see all the hard work I have put in throughout the years pay off. I want to thank my coaches and my team for making me better every day to reach my full potential." Several teams also made state runs this year. Girls gymnastics finished in 6th place, and the adapted floor hockey team finished off an impressive season with a 3rd place state finish. Forwards Zack Sencer and Alex Burns also made the All-Tournament team.
The students were not the only ones bringing home hardware at the awards ceremony, as several OHS teachers received statewide recognition. Mr. Dan Leer, Mrs. Kristi Rohman, Mrs. Jessica Wagner and Mr. Doug Wanous all were nominated for teacher of the year. Roxi Stewart was honored for her excellent work with the  MN School Counselors Association Administrative Assistant of the year award. Several OHS coaches who lead teams deep into sections and state tournaments were also recognized in front of the school. Mr. Williams and Tom Smith received Big 9 Coaches of the year honors for football and gymnastics respectively. The state coaches of the year honors went to Tom Smith and Tim Hunst for their efforts in gymnastics and girls hockey. Mr.Achterkirch was selected to Coach the 2016 All-star football squad after being recognized as the top assistant football coach in MInnesota.
Next came the O-Club awards, given to senior athletes who lettered in three sports. This year was unique, with 12 athletes receiving the award. Blake Westphal said, "It's cool to see so many people lettered in three sports this year. It's getting harder and harder to play three sports, with so many people specializing in one or maybe two, so it's nice to see so many people up here with me." After the O-club awards finished, the day concluded with the Junior and Senior Athletes of the year, and the 110% awards. The Junior recipients were Darik Elstad for football and track, and Caitlyn Anderson for Tennis, Basketball, and track. The 110% award, given to one senior boy and girl who display dedication and work ethic in their sport. This year's recipients were Nick Raichle and Meghan Rethemeier. Nick Raichle said, "I just try to give it all I have when I'm out on the track or the court, dedication has always been a priority for me.
The last award given at the assembly was the senior athlete of the year. Alec Holcomb was honored for the second year in a row for his performance as captain in football, hockey, and baseball. Steph Kretlow also received the award, with a multitude of honors and School records to her name. Kretlow said, "Getting this award is an honor because there are so many great athletes in our grade. It made all the hard work over the years pay off."
OHS excels in academics, the arts, and sports so a day to showcase those who keep the great tradition we have here alive is well deserved.