Pokémon, where'd you go?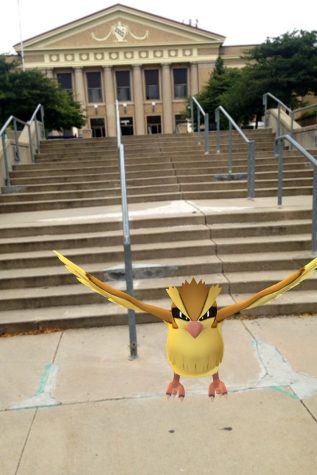 Richard Ong
A pidgey just hanging out on the stairs
Over the summer the hit app, Pokémon Go, brought excitement to many OHS students.  Pokémon Go is an app based on the popular Pokémon card games, television shows and nintendo video games. Niantic, Nintendo, Creatures and Game Freak, the owners of the game, created this concept to allow users to explore a virtual world while they walk around in reality. According to qz.com, the app has launched itself towards number one app charts in over 30 countries since its release. On July 26, 2016, Pokémon Go saw a fall to second place in the United States and Poland, while remaining in the number one spot for 30 other countries. Throughout these countries, the number of users totals to about nine and a half million users daily.
Pokémon Go has brought people together, and it has generated friendly competition.  Senior Joey Howell said, "When you have the right people it's easier to get into the game, and it was cool to see all the other groups around town," People get together to go "hunting" which helps the group to find more Pokémon. When the members of the group level up and catch better Pokémon, they can take over gyms together, which is easier with more people. The cycle could be a main contributor to the sudden popularity of the app. At the gyms, people would compete to take over the gym for one of three teams; Mystic, Instinct, or Valor. This further drove competition.
After reaching number one so quickly, there has been a feeling of decline for many users in many age markets. A poll of OHS students found that 27.2 percent* of students currently play Pokémon Go. Of those who do not currently play, 40.9 percent* have played. There are many possible reasons for the decrease in Pokémon Go users. One possible cause for decline in the app's popularity could be accounted to an increase in methods of cheating that individuals are seeking. Senior Dan Keller said, "I already quit the game, but when I found out people were cheating, I quit the game altogether." These cheats are designed to manipulate the user's location, or to download third party applications so you can travel the world for pokémon while staying where you are. Niantic has since updated Pokémon Go and has introduced bans on players who cheat at the game.
"
When you have the right people it's easier to get into the game, and it was cool to see all the other groups around town
— Joey Howell
Aside from cheating, Pokémon Go has brought users to new areas in real life. People have been found in restricted areas while they were on the hunt to 'catch 'em all'. One particular area of concern is the United States Holocaust Memorial Museum in Washington D.C. According to the CNN, the museum is trying to have the location excluded from the game as there were PokeStops there. The museum found the game inappropriate to the respect of the memories of the Holocaust. Pokémon Go has since been blocked at the location. Reportedly, the Pokémon Go website has a link available for "sensitive" locations.  
The Minnesota Public Radio News (MNPR) expressed concerns about students playing Pokémon Go during school if there are "gyms" or PokeStops nearby. However, this poses another concern. If there are sites for Pokémon near schools, anyone can try to come to the location. Mike Halverson, director of information technology for Owatonna Public Schools, said, "the process we had to go through was to submit a ticket to the developers of Pokémon Go. Three weeks later, we received a notification that there were no Pokémon Go Stops or Gyms on school district property." However, Halverson also said, "They do make a point of keeping them off school property." Near OHS, however not on school property, there is a "gym" located at the water tower between the senior parking lot and the Pillsbury parking lot. Mark Randall, principal of OHS, said, "If we have people that want to access to the building, they'll need to check in, and there needs to be a purpose for them to be here." Meaning that there is no current problem with the location of the Pokémon "gym".
Scholastically, there can be some benefits to Pokémon Go. In Saint Paul, Eric Gunderson of Washington Technology Magnet School has created a Pokémon Go spin off where there are Pokémon "eggs" on a piece of paper that students can catch by answering questions. If this was to hit OHS, Randall said it's a possibility, "As long as it connects with the curriculum and the lesson that we're supposed to be teaching." Whether this idea makes it to OHS or not, teachers are looking for positive ways to engage students and while allowing students to follow a current fad.
*Percentages based on a poll of 246 students
About the Contributor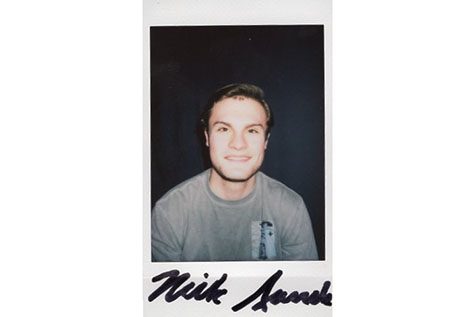 Nick Sande, Editor-in-chief
This site, Magnet, is where all seniors want to spend their senior year. So, here he is. In addition to being a part of the Magnet family Nick is involved...