Vikings snag Ahrens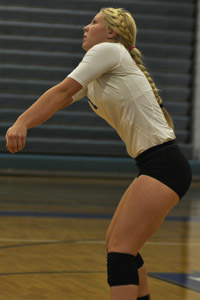 It is uncommon for a junior to commit to a college so early, but Peter Jones surprised the school when he committed to the University of Minnesota. That was 'uncommon'. Now it is very rare for there to be two. Jones is joined by Kaylea Ahrens on the short list of kids who have chosen their future schools. The Vikings of Augustana College in South Dakota gain a libero for their volleyball team, as Ahrens commited herself to the college.
The hardest part was the choice.
Being open minded, she looked at schools including Iowa State, Ohio University, and South Dakota State University. Ahrens first talked on Augustana campus with Ashley Buckley, the head coach of the Vikings' volleyball program. "I got in contact with the coach, I know she has watched me in big tournaments before," Ahrens said. Even then, the recruiting process wasn't an easy trial. Ahrens said, "It was long. I started really early too, and it was kind of nice to start early. Liberos usually don't get scholarships or anything. So I started really early, and it was stressful, but it's over. It's nice." She survived the search. As the dust settles, Ahrens reaps the benefit of knowing her future home.
Ahrens said, "I'm getting my athletic scholarship and that's about half, actually a little more than half, and then hopefully I'll get an academic scholarship that will be a full ride." Her goal was not to broker the best deal. She wanted substance at her school. A place that she could call her own, to plant the seeds of her future and career, and a place to play her hardest on the court. Augustana found its way into her heart.
About the Contributors
Kody Stenzel, Writer
I live and breathe The Magnet.

I socialize on the media.

I read books.






Mady Vieths, Photographer/Photo Editor/Adobe Lover
Mady Vieths is a lover of reddish fruit, watcher of "Back to the Future" box sets (on vhs), and drinker of caramel lattes. She is a photographer for the...