Gridiron Girls
September 29, 2016
After a magnificent live performance of the national anthem by senior Darik Elstad, the lights were on and the field was ready for some Wednesday night lights.  The 2016 Powder Puff football games were underway.  The first matchup was between the Skol Seniors and the Saucy Sophomores.  The game got off to a slow start and the score remained 0-0 at the half.  Late in the second half the sophomores scored on a third down and long by an outside run by sophomore quarterback Cassie Bremer.  With 2:10 remaining in the game the sophomores had an interception that clinched the game for them.  It was a big win and put them in a good spot going forward in the night.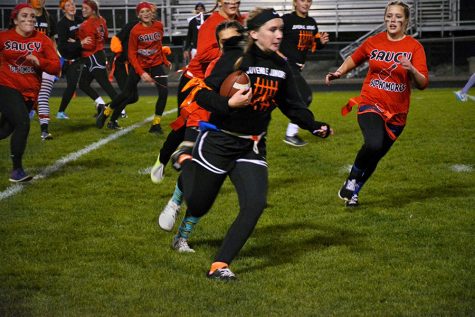 The second game was between the 0-1 Seniors and the 0-0 Juvenile Juniors.  As the juniors looked like they were about to score after a huge gain from junior QB Kenzie Karsten to junior WR Tiana Blazek on a fade route on the right side of the field. The seniors intercepted the next pass thrown and took it to the house, putting them up a score. With lots of celebration and a spike of the ball, many thought there was going to be an excessive celebration flag thrown.  But the whistles were quiet and the play stood. The seniors ended up winning the game 10-0, improving the record to 1-1 and the juniors to 0-1.
The third game was between the juniors  and the sophomores.  The sophomores continued their dominant offense throughout the game and beat the juniors 8-0. This win moved them right into the championship game.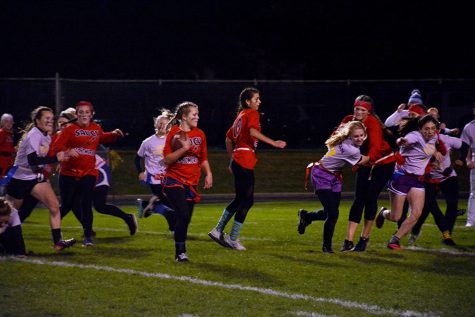 The much anticipated rematch between the sophomores and seniors was one for the ages. The defense lead by senior coach Jake Menden shut down the sophomores offense and  held the score to 0-0 at the half.  But early in the second half the mastermind of a head coach sophomore Jason Williamson drew up a play that gave the sophomores a 3-0 lead on the seniors.  Later in the game the seniors scored and made the extra point to put them up 4-3.  The sophomores were unable to score and ended up losing 4-3.
With there record both 2-1,  the Powder Puff championship was up for grabs and would be able to be won by a kick off. The seniors went first with senior Ellie Rohman drilling the first attempt from the 10 yard line.  Secondly, sophomore Cassie Bremer hit her attempt and sent it into a second kick off. Once again Rohman made her kick, now all eyes were on Bremer.  She sent the ball flying wide left allowing the seniors to win the game and clinch the Powder Puff Championship.
Wednesday Night Lights