Serve it, Smash it, Win it!
The Owatonna Girls Tennis team has left their mark all over the court this season, contributing to one of their best seasons in a long time. On Oct. 4, the team beat Faribault 7-0 and won their first round of sections. The team racked up plenty of wins this season as their overall record is 16-4 and they finished second in the Big 9 conference.
Captain Gabi Deml said, "This season has been going a lot better then we all expected!  For sections, we are hoping to win the next match this week and then make the final four and see how it goes from there.
"
"If you would have asked me if we could make final four in the beginning of the season I would have said no, but now we have high chances.""
— Gabi Deml
– everyone has worked very hard this season to get where we are and I am very proud of every single girl on the team."
The Huskies has acquired the number one doubles team in the conference consisting of deadly combo of Caitlin Anderson and Gabi Deml who won the Big 9. Sara Anderson is undefeated this season, as her record is 26-0. She placed third in singles for the conference. There are many talented tennis players on the high school team this year, and they all have worked hard and done very well this season.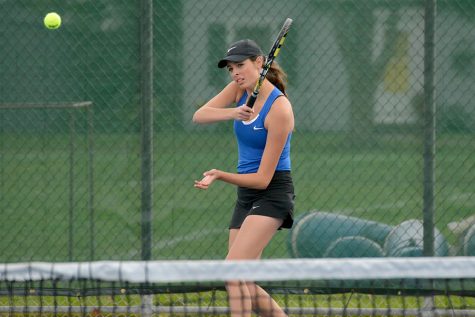 Head coach Curt Matejcek is also pleased and proud of the team's accomplishments this season. Matejcek said, "The thing that has surprised me the most besides finishing second in the Big 9, is how well we have competed all season long. We have over twenty six matches and have had very few days off."
Thursday Oct. 6, the team plays a home game against Northfield in the second round of team sections. They are hoping to win and make it to the final four. Support the team by cheering them on at the game!