OHS Dracula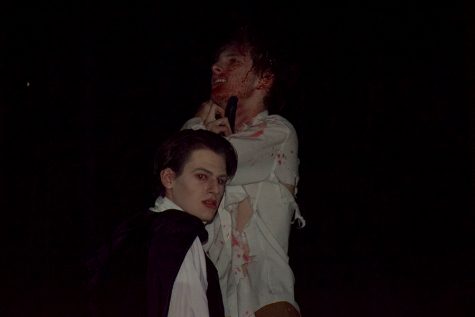 Following the last fall play, The Desperate Hours, comes another intense drama, Dracula, written by William Mcnulty. It follows the original Bram Stoker novel, while adding its own twist on how the story is told. Director Erik Eitrheim said,"Someone had said the costumes were wearing out and they needed to redo the costumes, and then someone said that the set was getting old… so they needed to redo that. So then someone said as long as we're reimagining that, why don't we just reimagine the whole script. They took the script apart and readjusted it. The script still has its original structure, but gives way to let Mcnulty play with more of the fear that the original novel strayed away from." Eitrheim has been the director of over 40 other plays here at the OHS.
"
There are lights flashing, fog, explosions, lots of things that we haven't done on this stage before. It's been a lot of fun working on this."
— Erik Eitrheim
The play starts with the main character Dr. Van Helsing (played by senior Isaiah Damitz) arriving at the home of his friend, Dr. Seward (played by junior Nicholas Hagen). Seward's wife, Mina (freshman Izzy Melgaard) has died of a sudden injury and the symptoms of sudden loss of blood, sleepwalking and bite marks leave them baffled. Minas' friend, Lucy (junior Kyra Rann), also begins to show the exact same symptoms, leading Helsing to believe that this disease is not caused by a virus, but rather a vampire.
Viewers can expect to experience many new special effects yet to be seen in an OHS production.  There are a total of 13 OHS students in the cast and  in the crew, and 28 people who helped build the fantastic set.
Be sure to check out the play on Nov. 10-12 at 7 p.m., or catch the matinee on Sunday, Nov. 13 at 1:30 p.m. Tickets can be purchased starting an hour before the show at the door for $5 as a student, and $7 as an adult.
About the Writer
Konner Kubista, Staff Writer
My name is Konner Kubista and I'm a senior at OHS. I like playing football, basketball, and watching Carson Wentz tear it up for the Philadelphia Eagles....