OHS finals nine in prelims
The OHS Girls Swim and Dive Team competed for sections at the Rochester Rec Center on Thursday, Nov.10. They have had a good outcome so far and have had a few girls place in different events. "We did very well, we had a day most teams hope for. Just about all of our swims were at or better than season best times. We had four divers in the top sixteen, first time this has happened in a very long time. Hanna Roberts also broke an 18-year old school record in the 500 free,"  said Head coach Isaiah Fuller. Burke Henderson placed 7th in the 100 yard breaststroke, Katie Belina placed 12th in the 100 backstroke, Erica Svenby placed 8th in the 100 yard Backstroke, Hanna Roberts broke the OHS record for the 500 yard freestyle with a 5:29 time, Emma Stockwell placed 13th in the 100 yard freestyle and all five will be going to section finals. Additionally, the 200 medley relay tied for 2nd, the 200 free relay got 5th and the 400 free relay got 6th. Diving also competed on Thursday ending with all four divers placing in the final sixteen. The divers will start Saturday at the following places: Alison An – 4th place, Emily An – 7th place, Elena Dant – 11th place and Lydia Weisenburger -16th.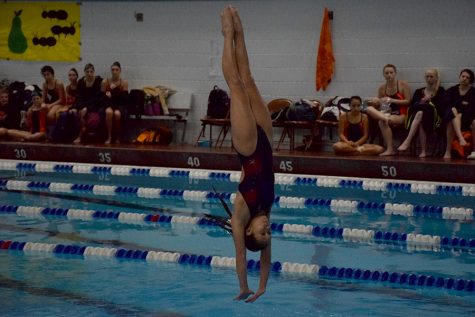 In order to get to State, divers will have to place in the top 4 and swimmers will have to place in top 2 for individual races and relays or make the pre-determined state cut time. Hanna Roberts received All Conference and Burke Henderson received Honorable Mention at Big 9 on Saturday, Oct.29.  Junior, Hanna Roberts said, "I'm more than happy about breaking the record. Ever since I've competed in my first 500 in 5th grade I knew I wanted my name up on that board. Being able to go to section finals for so many years, it's truly a dream come true. Something I'd never thought would happen to me. So many friends and family have been me through supporting this and have gotten me through everything. I've worked extremely hard for the moment I had tonight. And I couldn't be happier." The team is headed to section finals on Saturday and hope to make it to state.  Go and show some support to the girls on Saturday, Nov. 12 starting at 1:30 p.m. at the Rochester Rec. Center.