Caroling, caroling now they go
OHS Carolers are starting their short caroling season, which is taking place throughout the month of December.  When viewing carolers throughout Owatonna, a "Merry Christmas!" or "Happy Holidays!" is never far behind.  The OHS Carolers are an important aspect of Owatonna's winter holiday celebrations.  They spread holiday cheer throughout the community's businesses, schools, nursing homes and even individuals who could use some of the OHS Carolers' contagious cheerful spirit.
Not only does carolers make a difference in the lives Owatonna's community members, it makes a difference in the lives of its participants.  "Carolers has given me more confidence with everything," said senior Mark Kubista, a bass in the OHS Carolers, "I really enjoy being a part of such as close knit group of people whose jobs are to spread happiness."  That is just what the carolers do, spread Christmas cheer for all to hear.  "Carolers are always fun to listen to, and really make you feel festive," said senior Margaret Schlicker, "I remember being especially excited in grade school when the carolers would come and sing and hand out those mints."  On the day before Christmas Eve, the OHS Carolers go around to the Owatonna schools and sing carols for the students there, bringing some holiday spirit to their school day.  Junior Kjerstin Anderson said, "As a kid it was always cool to realize that there was a group of people who just wanted to make people happy."  Anderson then continued on to sum up reason carolers exist, saying "I think carolers bring the community together in a way that not many groups are able to.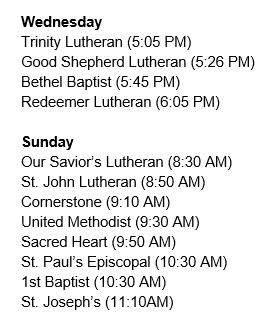 Amidst all the bustle of the holiday season, they give people a reason to simply stop and smile."  The OHS Carolers hope to help people stop and realize everything and everyone that each person has to be thankful for.  They hope to touch as many lives as possible this holiday season, spreading the true spirit of the holidays.
Carolers will be spreading holiday cheer throughout the community.  The OHS Carolers will already be coming to a location near most people's homes, such as one of these local parishes.  Check at local businesses for specific times at their locations.  The OHS Carolers will perform Tuesday, December 20 at the OHS Holiday concert, which starts at 7 PM.
About the Contributor
Elliott Rysavy, Staff Writer
My name is Elliott Rysavy, high school senior by day, Magnet reporter by night.  I am involved in OHS Concert Choir, musical theater, OHS Carolers, 4-H,...