What about that brewtiful coffee?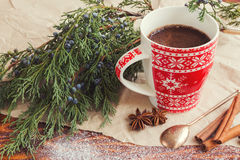 According to statisticbrain.com, about 100 million people in the U.S. drink coffee everyday. There are many different ways to make coffee, from making your own with a coffee machine at home to simply going to a coffee affiliated business. In Owatonna alone, there are over 10 businesses that offer coffee. Here is a list of some of the most popular.
Caribou
The most popular drink bought at Caribou is their mocha, and the busiest times would be on the weekends. Caribou offers many coffee drinks as well as teas and smoothies. Selling whole beans, signature, ice/hot and even coffee-free drinks, Caribou has something for everyone. They also have a perks program through an online application where one would get a perks card. The card has benefits of special deals and promotions. One great deal would be the seasonal tumbler coffee mug, where you buy the mug and get free refills on coffee during the month of January. Their holiday drinks consist of the Dark Chocolate Raspberry Truffle Mocha, Milk Chocolate Hazelnut Truffle Mocha, White Chocolate Caramel Truffle Mocha, Fa La Latte and Ho Ho Mint Mocha.
Address:  2350 43rd St NW #105, Owatonna, MN 55060
Phone: (507) 451-9589
Menu: cariboucoffee.com
---
Starbucks
The most popular drink bought at this location is their Caramel mocha and Caramel frappuccino. Saturdays are their busiest days of the week. Starbucks offers many coffee drinks and beans, k-cups for a Keurig and iced/hot coffee drinks. They provide many holiday gift cards, gifts and sweets. Their holiday drinks consist of Caramel Brulée Latte, Chestnut Praline Latte and Peppermint Mocha.
Address:  641 W Bridge St #100, Owatonna, MN 55060
Phone:  (507) 455-3624
Menu: starbucks.com
---
Kwik Trip
They have a wide variety of coffee flavors that come in sizes ranging from 12oz. to 24oz. They have both iced and hot coffee drinks with peppermint cocoa and cinnamon honey gram for their seasonal holiday drinks.
Address: 1075 Frontage Rd W, Owatonna, MN 55060
Phone: (507) 446-9576
---
Central Park Coffee
The most popular drink is their specialty coffee drink. They offer brewed coffee, lattes, mochas, americanos and flavored hot, iced or blended coffee drinks. One of the special holiday drinks selling right now is the peppermint stitch mocha. They throw in a unique spin from traditional coffee shops by also selling locally made jewelry for 25 percent off as well.
Address: 113 N Cedar Ave, Owatonna, MN 55060
Phone: (507) 451-4242
Website: places.singleplatform.com
---
Fireside Coffee
The most popular drink is the mocha or chai tea, but their regular coffee is popular too. Fireside offers regular, flavored coffee, lattes, mochas, cappuccinos, americanos and coffee free drinks. They also have many winter drinks to warm up with, including Peppermint Stick, Winter Wonderland, The Fireside and The Nutcracker "sweet".
Address: 124 NW 26th St, Owatonna, MN 55060
Phone: (507) 413-0248
About the Writer
Shaymara Salinas, Photo Staff and Staff Writer
I am optimistic, and a goal achiever. I am currently a sophomore,  I speak both English and Spanish. Today, I adore learning new things on a daily basis...