Athletic Trainer Terry Carlyle
February 2, 2017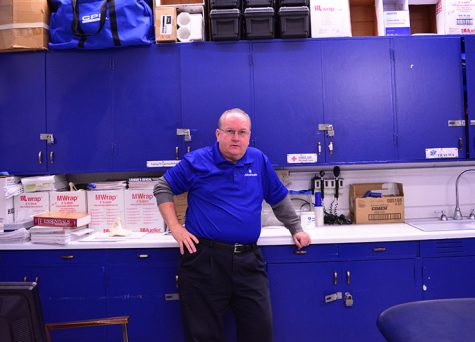 Additionally, OHS's athletic trainer and American Heart Association instructor, Terry Carlyle, widely known as "TC," also had an ablation surgery performed less than a year ago due to supraventricular tachycardia, or SVT. This condition affects the electrical circuitry of the heart and caused Carlyle's heart rate to suddenly spike up to 225 bpm, far higher than is healthy for his age range. Deciding to take a trip to the emergency room, he was told he would need a heart ablation surgery. The surgery was almost parallel to McKay's, however TC was kept overnight at the hospital simply as a precaution.
What differed between Mckay's and TC's experiences what that McKay was already aware of her heart issues. Carlyle, however, had no family connections with heart problems or any idea that he himself had a condition. Carlyle said, "This isn't something that just says, you know, congenital. I'll be honest with you, I didn't even know I had the thing. Didn't even realize it until about six or seven years ago." While genetics can have a heavy influence on heart conditions, students and adults want to always stay alert to their body's signs, regardless of whether their family history is free of heart disease or not.
---
"
The nutrition and keeping hydrated are two important things and read your signs. If you feel something going on, make sure you get in right away, because if you correct it sooner, then we can keep you from having major issues in the future.
— Terry Carlyle
While heart conditions are not prevalent in most teenage lives, this does not mean that they are nonexistent. In  OHS, there are 14 students battling a heart condition, two with implantable cardioverter defibrillators and one with a pacemaker, both used to treat irregular heartbeats with electrical pulses. Unfortunately, in the past 15 years, OHS lost two former students to undiagnosed heart condition. The most recent being Melani Omangi who passed in 2011. It is vital that teenagers are attentive to their bodies and are sure to talk with their doctor if they begin to notice anything unusual.
It is vital to remember that one's childhood has a large impact on whether or not they will develop these diseases later on in life. Additionally, if students have a friend who is battling a heart condition, the best way they can support them and lend a listening ear, get informed on his or her condition and help them to get active! Do not forget to wear red this Friday to show OHS's support of women battling heart disease! Stay healthy, OHS!