"Taking care of business"…… every game
Huskies win AAAAA Prep Bowl Championship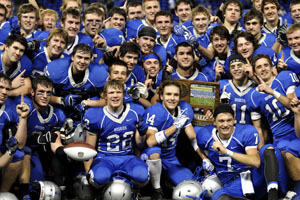 Most would describe a champion as a leader who surpasses all odds by withstanding criticism and competition by rising to the top. With that being said it is fair to say the OHS football team is without a doubt a team of champions. Neither by title nor because of final scores, but rather the character that this team is built around. Coach Marc Weiss said, "What a great moment for Owatonna football players, fans, and anyone who has ever put their hands on that field for this town. The amount of pride that was seen out there on that field today was tremendous. This is a team of leaders and everyone of those guys stepped up and played lights out." With losing in the championship of the prep bowl last year came experience and determination along with a group of guys willing to put a successful year behind them and make their mark in Minnesota football history.
Great players rise to great occasions. Throughout the year the team has dealt with minor adversity through injuries which for some creates opportunity to perform. Among a group of leaders some will need to step up. For those unfortunate players who were unable to compete due to injury there was a sense of "Let's do it for Ty" or "Let's do it for Chase" and that is what a team is all about. Coach Dean Walters said, "It was a bittersweet win for our guys. One of our leaders Ty Sullivan goes down with an injury and at half-time the guys are down a little bit because he's an important part of our team, as is everyone, but the important thing was that guys stepped up, we hung with them and Sam Fenske finally picked off that pass he wanted all game." Fenske's pick proved to be a big play in a lights out performance by Owatonna.  In regard to the touchdown, Fenske said, "Getting a touchdown is a great feeling, but there's no greater feeling than being able to say we are state champions. We've worked towards this endlessly ever since we first started playing together when we were little. Guys on our team stepped up when they needed to fill in holes and played great on both sides of the ball, it was just a great team victory and I could not be happier to share this with my family and teammates."
This team is a special group a young men. All business all year is the best way to put it. Sophomore Alec Holcomb said," It's great seeing how the upper classmen carry themselves and just their overall work ethic which just helps make our team want to be the best." In regard to the team's work ethic Coach Jeff Williams said, "It's very rewarding for us coaches to see the kids day in and day out work so hard. They've set this win as a goal pretty much for the last four years and when your guys just expect to be successful and they know the hard work that it entails it just makes it that much easier on us and we're extremely happy for our guys." With the success on the field the team really showed some impressive numbers weather it was Aaron Peterson running for over 2000 yards this year, Ian Langeberg having over 1700 yards passing along with a great receiver core made up of Ty Sullivan, Sam Fenske, and Michael Schmitz or an unbelievable defense who allowed only 47 rushing yards per game and roughly 1.7 yards per carry. Williams said, "I think as a team we felt we had more weapons in the sheath that we could have used but just never needed to because we executed so well offensively and defensively throughout the year which is just tremendous."
Coach Marc Achterkirch said, "These boys earned this win. It wasn't a lucky break here or there it was they came to play from the start all game, all season.  This game is really something special they'll remember for a long time. They were a focused group all season and all throughout their high school careers and bottom line is the kids played great and we could not be happier for them."  The team finished off the game winning 24-0 with a perfect 13-0 record on the season. Perfect season.