Girls stay grounded
The varsity girls basketball team has had a great season so far with a record of 16 – 5. They had a 69-32 win against Rochester Century on Feb. 7 and a recent 71-51 win against Rochester John Marshall.The Huskies have a promising seed in sections with the solid record they have set this season. Senior Lexi Langeland commented with her outlook as the Huskies head into section play, "I think that we are gonna go far into sections this year with our seed that we will get." The last couple of years the girls have come short of this goal.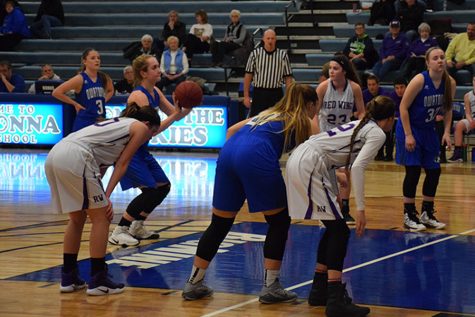 Team chemistry has been a key factor to their success this season. Varsity coach Lindsey Hugstad-Vaa said, "I think that all the girls get along with each other great and really enjoy each other and that's great". Team chemistry has been a big factor to the girls success. Hugstad-Vaa also mentioned, "The girls have been playing with each other since they were little, so they are unselfish and that's why the game is fun for them." Overall the girls seem to being playing very well with each other.
The next two games for the Huskies are away on Feb. 17 at Red Wing High School and Feb.18 at Hopkins High School. Their next home game is on Feb. 24th against the Austin Packers.
About the Contributor
Terrell Conner, Staff
I am a Senior at the OHS this year. I am invovled in Football, Basketball, Deca, Young Life, and of course Magnet. I love taking pictures and writing...