Shooting for state
After a 2-1 start to the season, the OHS Adaptive Floor Hockey team has kept up their positive attitude and compassionate play. The team is now standing at 7-3 and is considered one of the top teams in the state. With strong leadership from juniors and seniors, they have to do a good job of teaching the younger students the way of Owatonna floor hockey.  After having an incredible 2015-2016 season and placing third at state, the team looks to have another run at state this year. Assistant head coach C.W. Wolfe expressed the importance to get a top two seed in the south division,  "We want to make it to state, obviously, but want to make sure we are the two seed out of the south." Getting this top seed will give the team an easier run to a state title, not having to play one of the powerhouse teams of Minnesota in the first round.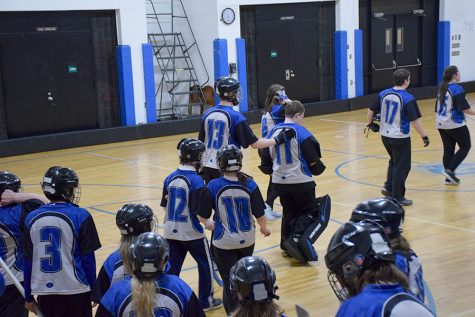 Leading the mighty pack is Zach Sencer. He leads the team in goals and is one of the top players in the state.  In goal, the team has Junior Nolan Engelbertson. " Engelbertson has been absolutely huge for us in goal," said Coach Wolfe.
Some of the best parts of watching this team is the drive and passion they show each and every game or practice. "They come to practice excited about getting better and that spills into their games," said Coach Wolfe. Their hard work will hopefully pay off in the near future as their season comes to an end and hope to make a playoff push. The teams had a very fun season, "A lot of fun, A LOT of fun," said junior Zach Sencer. Their first stop on the way to state will be their first section playoff game. The game will be home at the Owatonna Junior High School on Thursday, Mar.9 at 4:30 p.m.