Top jobs in Owatonna as a high school student
With so many activities, academics, sports and clubs going on at Owatonna High School, a fun job makes all these things easier. The ideal job is flexible and has great people to work with.
The Owatonna Movie Theater, Northwoods Cinema 10, has new movies, candy and popcorn; what more would a high school student want? Senior Bekah Bendorf said, "My favorite part about working at the theater is the friendships I have made with my co-workers." While the theater has multiple different showing times for movies, its flexibility of the the staff's hours are also very accommodating. "I am easily able to participate in all my activities but still get plenty of hours," said Bendorf. With the fun of watching new movies before coming out to the public, the movie theater would be a great job to have.
Starbucks is the home of year- round pumpkin spice and so many other great drinks and treats. Senior Angela Edel said, "I love working at Starbucks because there is always something to do and something new to learn." Coworkers make working easier and they often turn into great friends, as well. When it comes choosing a job, Edel said, "I would recommended applying if you enjoy multitasking or working with other people. The hours are flexible depending on your availability." The upbeat and fast-paced job would truly be a great one to have.
"
My favorite part about working at the theater is the friendships I have made with my co-workers."
— Bekah Bendorf
Central Park Coffee is a downtown, locally owned business with great waffles, smoothies and, of course, coffee. "My favorite parts of working at Central Park Coffee is A) the employee discount to feed my worsening coffee addiction and B) the people," said senior Grace Valen. It is important that the place students chose to work is an environment they enjoy and find comfortable. Valen said, "CPC has become another home to me."
Fleet Farm has just about anything anyone would need. With many students trying to be in as many extra curricular activities as possible, it can be hard to manage a job on top of it all. Senior James Rand, who is involved in Robotics, Concert Choir, Theater, Orchestra and the Cannon Valley Youth Orchestra outside of school, said, "The flexibility of their schedule is one of the reasons why I chose Fleet Farm. They work with students around their activities." Flexibility can be key and so is the wage you earn. Rand said, "My favorite part about working at Fleet Farm has to be the $2.25 weekend bonus pay."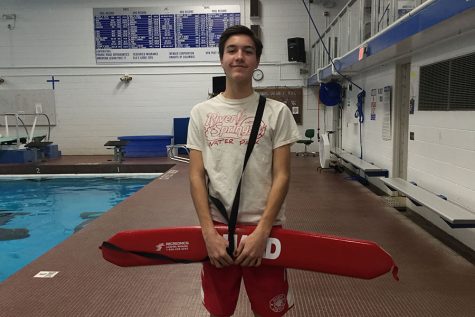 Seasonal
Ice cream is very important, especially when it comes from The Blast. Its soft served ice cream helps to cool down hot spring and summer days, and friends make those days even more fun. Senior Maddie Seykora said, "I'm very close with my co-workers." Seykora also said, "They do a good job at working around your schedule and you don't have to worry about working during the winter." It is a flexible seasonal job that comes with soft serve ice cream and the energetic coming and going of customers.
Being a lifeguard is not just a seasonal job at River Springs Water Park. It is also lifeguarding at nearby hotels and at West Hills where many see new people. Senior Ross Stevenson said his favorite part of his job was "being able to be outside in the summer and enjoy the weather, as well as talking to and meeting new people all the time." When it comes to hours, Stevenson said, "Our supervisors work around our conflicts and help us find a sub for a shift if needed." The warm weather and flexible hours make being a lifeguard seem like an equal balance of work and fun.
These are just a couple of the great business in Owatonna. Jobs are a way to show independence, responsibility and a great way to save for college. While a job can be fun, it is also a hard work.
About the Contributor
Ellie Rohman, Staff Writer
Hi! I am Ellie Rohman. I enjoy playing softball, singing in choir, being in Key Club and of course, being a part of Magnet. I love interviewing people...