A voice worth notice
Student Spotlight: Jazz Palmer
The Owatonna High School has many students doing great things and going unrecognized. One girl who sticks out for her artistic achievement is junior Jazz Palmer. Jazz's singing talent is a remarkable skill.
Jazz started singing age of seven, but it was not until age 10 that she started taking vocal lessons. She takes private lessons every other week since then. Palmer said, "I lead worship with my dad pretty much every weekend, and I would sing at different churches sometimes." Jazz has a true passion for singing and worshiping at church.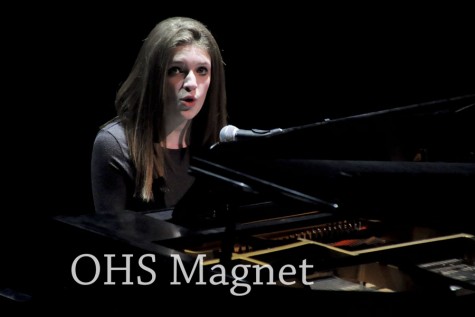 As for how she got into singing, she said, "I started singing because when I was little, I wanted to be Christine in The Phantom of the Opera. My dad wanted me to sing at church, though, so now I hope to become a worship leader or a songwriter."
Palmer has also has sung the national anthem before sporting events and competed in talent shows. At the OHS talent show, she placed first her freshman year by singing an original song. The following year she took second singing another original song, with junior India Enter playing the cello. Jazz has plans to enter the talent show this year as well. Students can see Jazz sing at the talent show on Apr. 28 in the auditorium. Palmer definitely deserves a spotlight of her own; she can sing!