Day in Washington D.C.
A one day trip to Washington D.C. was all it took to amaze OHS students Caitlin Anderson, Makenzie Schmidt, Autumn Ress and Austin Ress. On Tuesday, April 4 social studies teacher Todd Andrix took this group of four to the U.S. Holocaust Memorial Museum where the students were educated about the atrocities of the Holocaust. This is an annual event coordinated by the Jewish Community Relationships Council which serves as the central public affairs voice of the Jewish community and provides holocaust education.
The day began with an early arrival of 4:30 a.m. at the airport in Minneapolis, MN where they  boarded their flight by 6 a.m. The group then landed in D.C. around 9 a.m. (Eastern time)  where a charter bus would soon take them to the museum. Upon arrival, they went through security and then entered the museum.
What the students experienced inside the museum was absolutely eye-opening. For sophomore Makenzie Schmidt, the Burn Chamber exhibit was one she will never forget. "It was a big cement slab that was probably 20 feet long, and etched in the cement were little human figures. As you walked past the exhibit, you saw how the victims were moved into the burn chamber and then the dead bodies would be thrown into piles." This image was devastating for her, and made her wonder how any human beings could commit these heartless acts to others. The group also got to see an old train car that was a replica to those that the victims were transported in. Schmidt said, "The train car had a very dark, cold, brutal feel to it." These exhibits were only two of the many that the group got to see.
After a few hours in the museum, they then got to walk around outside and explore what D.C. has to offer. "It was fun to watch them (the students), because most of them hadn't been to Washington D.C. before," said Mr. Andrix. They got to see the Lincoln, JFK, FDR, Jefferson, WWII  ,Vietnam memorials, and also see the White House and the Capitol building. These are just a few of the great things the group got to experience in the short time they were in D.C.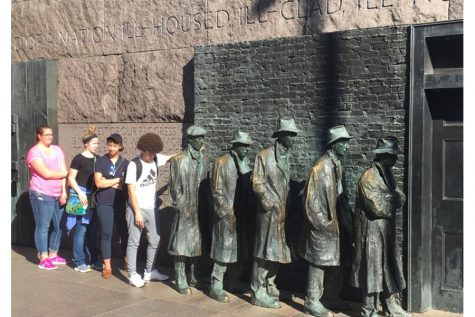 The group eventually returned to the bus around 6 p.m. and their flight left around 8 p.m. They landed in Minnesota around 10:30 p.m. roughly 18 hours after the trip began. It was a lot for them to take in for one day, Schmidt said, "I would love to go back through the museum a second time just because there's so much to see."
Mr. Andrix hopes for this event to continue to grow in popularity. "I want more kids to talk about it, and more to go on the trip. We as a country often get self centered and don't look globally as often as we should. We need to look more globally and see who we are as a country," Andrix said. He also mentioned how special programs like Close-Up that organized this trip, allow kids to have access to things that are no longer open to the public like they were when he was a kid.
If one were to ask any of the students on the trip, they would suggest that these trips need to continue. Senior Caitlin Anderson recommends the trip to anyone who wants to go in the future. She said, "The trip was very enjoyable yet educational at the same time. Everything in D.C. was so beautiful, and it had a very different atmosphere than that of Owatonna."
If students are interested in next years trip, the sign up will take place in the upcoming December and January. The trip costs approximately $425 which includes the flights, breakfast, dinner, plane food and the charter bus. It will be a one day trip that students will never forget.
About the Contributor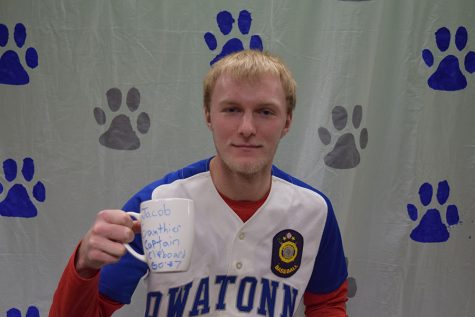 Jacob Gauthier, Writer
I am a senior here at OHS and am a writer for magnet. I love playing sports and participate in baseball and football. I also enjoy hunting and fishing,...