Kuhn named to national dean's list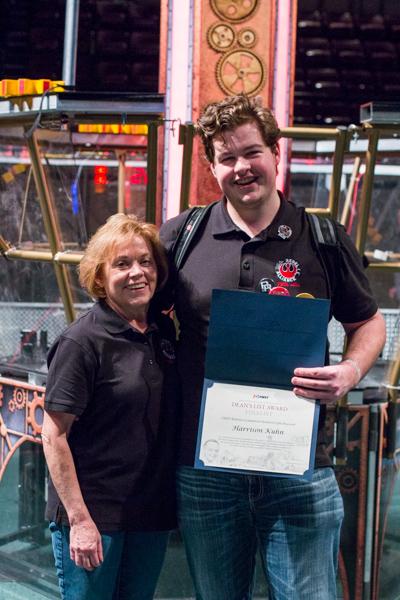 It is not often that a student in our school gets to fly around the country due to his excellence in extracurricular activities. OHS junior Harrison Kuhn gets to do just that. Harrison along with other students from around the country will be flying to Texas all because of robotics. At robotics competitions, students from schools around the state compete against each other in competitions. Throughout the country and the world, every regional competition awards two students a place on the Dean's List. When a student becomes a member of this list, they get to travel to Houston, Texas. Of the approximate 150 students heading there, ten will be winners. Those ten get an all-expense paid trip to New Hampshire to visit with the founder of robotics Dean Kamen, awarded scholarships and see some new advancements in the robotics field. Kamen is an inventor, some of his inventions include the Segway and the iBOT Mobility System.
Going to this event is a huge honor for any student in robotics. Kuhn said, "It is a huge deal, and it is very prestigious for one person." If one makes the top ten, there are a lot of benefits other than just being able to travel to New Hampshire. Their name gets put to a high list of Ivy league schools. Whether someone makes the top ten or not, there are immense benefits to just being in the Dean's list. If one is a Dean's List finalist their name still gets put on a list towards schools in the country.
In Houston, the finalists are going to a luncheon with Dean Kamen and other prestigious guests, this is where they will announce the top ten. As Kuhn said, "It is a good opportunity to network and socialize, and meet the founder who is a hero among robotics people." Not only will he meet some of his heroes, but he will also meet others students from around the world who are interested in his passion.
This year, Rebel Alliance has found some success in their regional competitions. In their Duluth competition, they ranked 23rd. In Lacrosse, Wisconsin, they ranked 13th, but unfortunately did not make any alliances. Kuhn said, "Unfortunately we did not make any alliances, but we did learn a lot of things along the way." Overall, this award is not just an achievement for Kuhn, but also for everyone else in the Rebel Alliance. OHS would like to wish him good luck in Texas!