The pressures of prom
May 5, 2017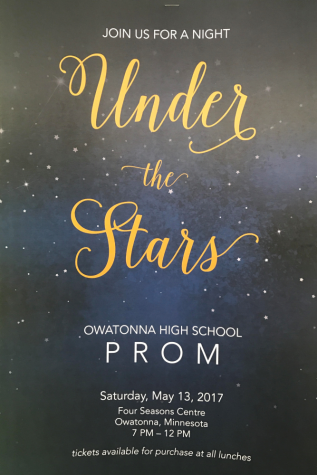 The event which some students consider to be the 'highlight of their year' is quickly approaching. Prom, the biggest dance of the school year, is just around the corner. From the time kids are little, they see big dances in movies and the hype that goes along with them. Each year, the prom committee decides a theme for the Four Seasons Center to be decorated with for the night of the dance. The theme for this year's prom dance is "Under the Stars."
Prom will take place in this "dreamy" setting on Sat. May 13, with various events occurring throughout the night. Tickets for Prom are available for sale in the senior commons during all lunches until May 10. Prom tickets cost $40 for an individual, and $60 for a pair. To get a pair of date's names in the Grand March program, be sure to buy tickets in the pair package. Prom tickets will not be available at the door of the dance. After Prom tickets will be available during all lunches from May 8-12. These tickets are $10 in advance and $15 at the door if not purchased ahead of time.
Grand March will begin at 7 p.m. It allows students to walk along a pathway decorated to fit the starry theme and stop for photos at designated photo areas. Both the dance and Grand March will take place at the Four Seasons center. The dance will begin once Grand March is ended, the latest possible time being 9 p.m. The dance will go until 12 a.m. For juniors and seniors who are not going to the dance, or for those who wish to leave early, After Prom will begin at the Junior High at 11 p.m. and will end at 4 a.m.
While this right of passage is something high school students look forward to, preparing for prom can place a lot of pressure on a student. Both boys and girls attending prom face struggles in attempt to prepare. However, the pressures faced differ between the genders.
Guys
For some, April showers mean May flowers, but for most high schoolers, April means prom is right around the corner. To some guys, prom is just another way of losing some hard earned money, and to others, it is a night of epic proportions.
"
Nothing will infuriate a girl more than when a guy shows up with a suit that clashes with her dress- so guys, be sure to get this right."
Renting a tuxedo for prom is not nearly as glamorous as shopping for a dress. Guys are really just looking for something that is going to fit well, that will not break the bank, and probably the most important thing, matches the date's dress. Nothing will infuriate a girl more than when a guy shows up with a suit that clashes with her dress- so guys, be sure to get this right. It is common practice to even take the date along while looking for a rental tux; that way she can not blame you if she does not like the suit come prom night. For those still looking for places to rent tuxedos, there are some great local options such as Klecker's Kreations or Dream Day Bridals by Marcia. However, if someone out there is willing to make a bit of a drive, there are some great out of town places like Savvi in Burnsville, or Men's Wearhouse in Rochester.
Before any of this can happen, there must be the ever so special, promposal. This is different for all guys because it depends on the relationship they have with their date. Some will go big with an array of creative ideas that will be sure to wow the girl, while others just merely talk with their date and comfortably agree to go together. For those that feel the need to impress their date with an amazing display, there is a fairly sizeable amount of pressure to come up with a creative and original way of asking. This becomes more and more difficult with each year that passes because there are less and less options to choose from.
The perspective of prom is different for each individual person, but as a general consensus, guys do not seem to care about prom as much as girls. There are basically two schools of thought, the first being that prom does not really matter and it is more of an expensive way to have fun with friends and the second being that some guys love the idea of being able to get all dressed up and go out on the town for a night full of adventure and good times. All guys fall somewhere along the line between being extremely for it and extremely against it, though, it all depends on the guy and his personal opinions. No matter what a guy thinks though, it is undeniable that prom is right around the corner!
Regardless of the work either gender puts into making a prom night special, it will be a night to remember. Stay safe and respectful over your prom weekend OHS students!
Girls
Many times when a girl attends prom, she hopes that it will be her chance to 'be a princess for a night.' Girls like feeling beautiful, and they will put lots of money toward achieving their ideal look. The pressure, which many girls face, to look perfect is the root of many components of prom. One of these components is trying to find the perfect prom dress. Many girls shop at popular locations for their dresses. These include Glitz and The Prom Shop, sometimes purchasing dresses online. Some even buy or borrow dresses from graduating students. Part of the pressure that girls face with prom dress shopping comes from fear of not finding something that "works for you." Some girls fear having the same dress as another students and some girls simply can't afford the dress of their dreams. Others girls worry their dress is not best for their skin tone or body shape. Senior Jenna Bogen said, "The thing I was most pressured by this year was dress shopping."
Another pressure that girls face is the amount of money spent on prom. Prices for the dresses worn can be upwards of $300. When this price is combined with the cost of shoes, dress fittings, tanning, and getting hair, nails, and makeup done, high school girls spend anywhere between $40 to $800 dollars for prom. Girls want to, and are expected to, look their best for prom, but the amount of money some feel they must spend to do so can go far outside of their expected price range.
Before any girl gets to the dance, they spend time with another person, a group of people, or both. When it comes to setting up a group for prom, many girls have faced issues. Junior Greta Jacobson said, "Getting a good group of couples together to spend the night with is a lot of work." It is a lot of pressure for a person to organize where a large group of their peers wants to take pictures, eat, hang out before or after the dance, and whatever else "being in a prom group" may entail for a person. This process becomes especially stressful when certain group members care much more about prom than others. Planning the evening of prom can become a large tug-of-war between "we shoulds" and "we shouldn'ts" because of the large amount of things a group intends to accomplish.
"
Prom is centered around going with another person. Tickets are less expensive when bought in pairs and the same goes for flowers. "
Many girls feel that finding a date to go to prom with is necessary. Senior Danika Brown said, "One of the things I feel most pressured about when it comes to prom is finding a date!" If a date is not found, a girl may scrap going to the dance altogether. Prom is centered around going with another person. Tickets are less expensive when bought in pairs and the same goes for flowers. However, some girls find ways around this societal stereotype. Senior Payton Adams said, "I haven't been asked to prom; I am going with my best friend instead." Girls have become more comfortable with going alone or with a large group of friends to prom rather than feeling unwelcomed because they may not have a specific date. The decrease in this pressure has allowed more people of both genders to enjoy the experience of prom as individuals.