Do What You Want When You're Poppin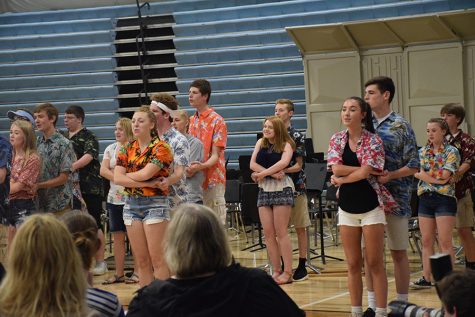 Along with the end of another school year approaching, one tradition at the Owatonna High School is the spring Pops Concert. The concert is one way for the all the arts programs to showcase all of their talents. The students have put a lot of hard work and dedication into getting to the level where they could share their talents with the community of Owatonna. All the long practices and early wakeups were worth it at the end of the night. The concert started at 7 p.m. and lasted roughly til 9:15 p.m., choir, band and orchestra got to showcase their group's entertaining music. The Huskies groups started out the night and the best groups that the Owatonna music program has to offer finished it off.
This year the Varsity Orchestra started the night playing "Feather Theme"(Forrest Gump main title), Alan Silvestri, arr. John Moss, and Happy Together, arr. John Reed. The Huskies choir followed up that performance singing songs from "foot loose" arr. Kirby Shaw, to Pure imagination (from willie wonka and the chocolate factory) arr. Jay Althouse, and ended their performance with the "Dancing Queen) arr. Alan Billingsly. Next up was the Varsity Band playing "An American Fanfare" arr. Rick Kirby, and "Alan Silvestri: A Night at the Movies" arr. Michael Brown. The Varsity Choir then performed  "Surf's Up" (Beach Boys medley) arr. Roger Emerson. Midway through the concert the Huskies Band was ready to perform. They performed songs from the new Disney movie "Moana" arr. Jay Bocook. Next, was the Symphony Orchestra performing "The Lord Of The Rings" arr. John Whitney. The second to last performance of the night was a fan favorite, The Concert Choir, They sang and danced to the Musical "Hairspray" arr. Mac Huff. To end the night Pete Guenther lead the Concert Band onto the stage to perform "Bond…James Bond" arr. Mac Huff and to wrap it up with "Pirates of the Caribbean: At The World's End" arr. Jay Bocook.
The night was full of excitement and entertainment that is difficult to find anywhere else. It was a great way for the seniors to end their performing careers here at OHS, by seeing all of the smiling faces of friends, family, and the community. As the rest of the school year rounds up, this will be a great memory for all involved to remember and brighten the start of another summer.